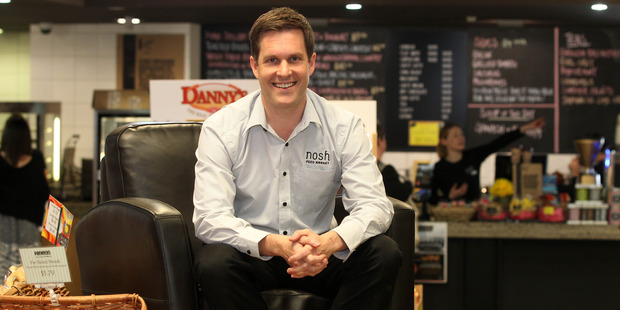 Nosh's new boss is brimming with ideas for driving sales at the upmarket grocery chain - but offering cut-price milk isn't one of them.
Retail dairy prices are an emotive issue in New Zealand and Nosh gained a lot of publicity last year from offering milk for as little as $2 for 2 litres, which resulted in a small loss for the company.
Hayden Syers, who became chief executive in July, said the loss-leading strategy hadn't been successful.
"It brought a lot more people into stores that were really just buying milk and it really didn't result in other sales," he said. "We're definitely not going to repeat that milk promotion. The numbers didn't work."
Nosh now sells 2l for $3.49, or two bottles for $6.50.
Syers, a chartered accountant who describes himself as an "extreme foodie", said Nosh would drive sales through educating customers about food - including new barbecue classes targeted at men - and providing a great in-store experience.
The 37-year-old took Nosh's helm after his father-in-law, Paul Lucas, injected capital into the business and bought the shares of former chief executive and co-founder Clinton Beuvink in June. He wouldn't reveal how much cash had been invested into the business, but said Lucas now owned 88 per cent of the company, which operates eight stores in Auckland, Matakana, Mt Maunganui and Hamilton. Beuvink had decided his journey with the retail chain had "gone full circle" and it was time to pursue other opportunities, said Syers, who initially joined Nosh as its chief financial officer at the start of this year.
He said it was during his time in the role that he realised Nosh's growth plans would be hindered by a lack of capital.
"So basically Clinton and myself got into a dialogue with my father-in-law over that."
Syers said Nosh's new management had inherited a commitment to build three new stores in Tauranga, Pukekohe and Pakuranga, which were likely to open next year.
In 2011, Beuvink said he wanted Nosh to have 40 stores up-and-running and a 5 per cent share of the New Zealand grocery market, currently worth around $17 billion a year, by 2016.
Syers said Beuvink's target was "very ambitious".
"We're just putting our feet on the ground and looking at how well each store performs." he said.