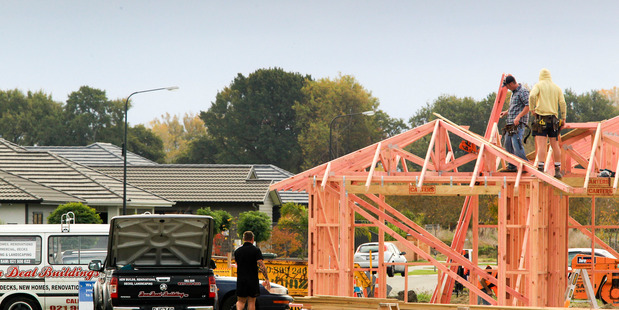 New Zealand business confidence eased from a 14-year high in August, but remained at elevated levels, led by the construction sector.
A net 48.1 per cent of firms expect general business conditions to improve in the year ahead, down from 52.8 per cent in July, according to the latest ANZ Business Outlook survey.
Firms seeing a pickup in their own business activity in the year ahead eased for a second month to 43.3 per cent from 43.7 per cent, although construction at 68.8 per cent is the highest level since March 1994.
The construction sector is "leading the charge," with a net 72 per cent of construction businesses expecting better times ahead, although sentiment across all the major sectors is well above historical averages, the bank said.
"That's a sign of an economic expansion (we're beyond recovery) that is becoming more widespread and broad-based," ANZ New Zealand chief economist Cameron Bagrie said in a statement. "There is a huge degree of optimism percolating across the economy."
Widespread business confidence combined with upbeat consumer confidence signals potential economic growth of just over 4 per cent by early 2014, ANZ said. While the bank doubts New Zealand's economy could grow that fast sustainably, the economy is in a "sweet spot" and is outperforming most of the developed world, Bagrie said.
Signals of capacity pressure are starting to emerge, with capacity utilisation continuing to tick up with a net 62.5 per cent expecting capacity utilisation to rise in the construction sector, ANZ said.
The survey also showed employment intentions are firming, with a net 18.1 per cent of businesses expecting an uplift compared with 16.3 per cent in July. Meanwhile, profit expectations and investment intentions both softened but remained at elevated levels, while pricing intentions eased, ANZ said.