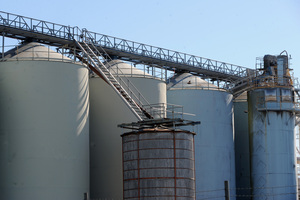 An employer has been fined $35,000 and ordered to pay $26,000 in reparation after a worker was seriously injured in a grain silo incident.
NZ Starch Ltd, of Onehunga, Auckland, pleaded guilty to one charge under the Health and Safety in Employment Act 1992, and was sentenced at Manukau District Court today.
The victim had been sweeping grain from a silo and failed to turn off a piece of automated equipment containing blades. He knew he was supposed to turn it off, but had been shown how to work with it operating at slow speed.
The man fell into the moving blades, suffering a head injury, fractures to his right arm, right leg, right eye socket and jaw, broken tendons in one leg and extensive bruising.
The Ministry of Business Innovation and Employment said the company had not isolated the hazard by installing an interlock, which would have locked the silo door while the equipment was active.
- APNZ