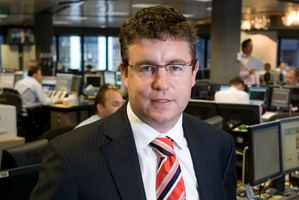 Businesses remain in a buoyant mood, ANZ's monthly business outlook survey found.
A net 32 per cent of firms expect general business conditions to improve. That is down two points from March and seven points from the recent peak in February, but it remains well above the long-run average of a net 8 per cent optimistic.
A net 30 per cent expect a lift in their own activity, down two points on the March survey, but most of the survey's more detailed indicators have moved in the right direction.
Investments intentions are up, to an eight-year high, underpinned by a rise in capacity utilisation.
Residential and commercial construction intentions strengthened, as did export expectations.
Employment intentions improved, though ANZ chief economist Cameron Bagrie said that last year had shown there could be a gap between expectations and reality on that front.
The construction sector was generally the most optimistic and the agriculture sector the least optimistic, he said.
"That's what you get when the economy is buffeted by a city rebuild and the after-effects of a serious drought. Canterbury ranks number one for firms' own activity expectations, expected profit uplift, employment, by a considerable margin, and investment."
Auckland, despite a housing market buoyed by scarcity and low interest rates, only just featured in the upper half of the regional rankings, he said.
The survey's pricing measures remain tame. Inflation expectations are a subdued 2.3 per cent unchanged on March.
"And pricing intentions are demure, with just a net 21 per cent expecting to raise prices," Bagrie said.
Outside the construction sector, where a net 34 per cent of firms expect to raise prices, the inflationary genie was nowhere to be seen, he said. "That's an environment conducive to interest rates remaining low for some time."
ANZ's composite growth indicator, which combines results from the business outlook survey and the bank's consumer confidence survey, is flagging annual economic growth of 3.2 per cent by September, Bagrie said.
"I'm still not convinced about the mix of growth. It doesn't look like a fully durable upswing in terms of where we are getting the growth from. But for now, we'll take it."