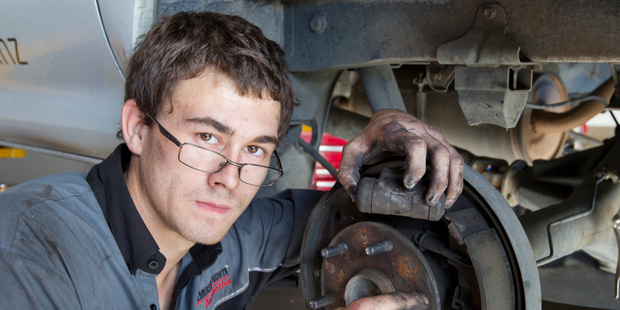 Solo father Jamie le Bas has the odds stacked against him.
The 22-year-old, from Palmerston North, left school at 14 and had his first child at 16, when he went on the dole. He now has four children and cares for the eldest, Jasmine, after her mother, his ex-partner, was diagnosed with post-natal depression.
Under the Government's last round of welfare reforms, he had to return to work when Jasmine turned 5 years old.
"I was still studying two days, and then four days working," he said. "It is difficult. You miss them, the kids."
But Mr le Bas and his daughter have thrived since he re-entered the workforce as a mechanic. He has jumped up several pay grades and improved his literacy.
Social Development Minister Paula Bennett pointed to the young mechanic as an example of how her policy changes could work for people who would otherwise remain dependent on the dole.
Mr le Bas got a job at Palmerston North Automotive with the help of a flexi-wage, which subsidises employers who take on beneficiaries.
His boss Todd Philips said the subsidised recruitment had been so successful he was now attempting to hire another young worker.
Mr le Bas said the new welfare requirements had not been too strenuous for him.
However, he felt beneficiaries with multiple children could be badly affected.
"It's reasonable for people who have got one kid. With three or four it would be hard for someone.
"You really need them all at school. When it's daycare and kindy it's only for a few hours a day, it's not enough."
He had coped with the help of his family and ex-partner, who saved him childcare costs by looking after Jasmine during the day.
He worked six days a week, but stressed that this was because of his love for the job.
His earnings paid for child support for his three other children, and $50 a week went to paying off his $18,000 student loan, which covered his trade and automotive qualifications.
Asked whether he would have taken a different path given the choice, he replied: "I wouldn't do anything differently, nah."
Mr Philips said he was in awe of Mr le Bas' determination and work ethic.
"He hasn't picked the easiest life out. Jamie's had a lot of odds stacked against him."
He felt that young people needed the right attitude to gain a job, and if Mr le Bas could cope with fulltime work, anyone could.