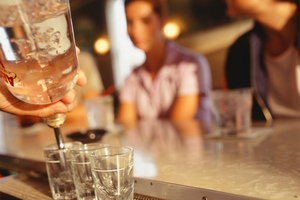 The Employment Relations Authority has ruled a Northland barman was wrongly sacked despite drinking on the job so much his colleagues complained about working with him.
Stephen Cross was hired as a barman and duty manager at the Onerahi Hotel in Whangarei in July 2010.
During his employment, his manager Peter Gardner spoke with him on numerous occasions about drinking on the job.
Mr Gardner was concerned that Mr Cross' drinking was affecting his ability to do his job and was trying to help him, an authority ruling released today, said.
Mr Cross drank before and while working and this was noticed by patrons and by other staff members who became increasingly frustrated that he was not pulling his weight at work.
He was spoken to about it by members of the staff, patrons, Mr Gardner and the hotel owner Victor Hill.
Mr Cross had lost his driver's licence due to drinking and driving and Mr Gardner drove him home after work on several occasions.
Also, Mr Gardner was concerned that Mr Cross' behaviour was putting Onerahi Hotel's licence at risk and his own position as manager in jeopardy.
Things did not improve and in February last year, Mr Cross' drinking at work had got to a point where staff were complaining about working with him.
Mr Cross resigned after being spoken with again by Mr Gardner, but he then withdrew his resignation.
In late February, last year, Mr Gardner started a disciplinary process in order to deal with Mr Cross' drinking.
Mr Gardner and Mr Hill said Mr Cross failed to participate in the disciplinary process and abandoned his employment.
Authority member Anna Fitzgibbon said Mr Gardner had gone to great lengths to set up a disciplinary meeting with Mr Cross, who failed to make the meeting.
Mr Cross was also told not to come to work while the disciplinary process was underway, but he turned up for his shift anyway on March 9.
He said he was told by Mr Gardner he no longer worked at the hotel and to come back on March 12 to return his key and pick up his holiday pay. Mr Cross said this amounted to a dismissal.
Mr Gardner and Mr Hill denied dismissing Mr Cross, and said he had failed to attend a meeting discuss issues with his drinking, that Mr Cross abandoned his employment and at his suggestion, he was paid out his holiday pay.
But Ms Fitzgibbon said it was her view Mr Cross was dismissed.
She said Mr Cross made no effort to attend meetings or address the situation with his employer.
Mr Cross was "difficult" and wholly contributed to the situation, she said.
No compensation was awarded to Mr Cross.
- APNZ