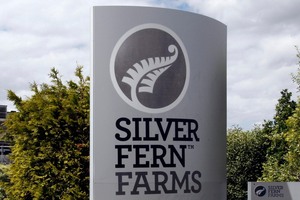 Although local freezing works are in full swing, finding local labour is proving difficult because prospective employees are failing drug tests.
Silver Fern Farms' Takapau plant is at peak production with farmers offloading stock due to the big dry, says plant manager Laurie Davies.
"The workers are on daily overtime and working Saturdays - we are managing to keep up with it as best we can."
To help cover the extra shifts people have come from other sites, he says.
"Unfortunately, when we work on Saturdays there's not enough of our people who are available to cover the shifts, or they do not want to work the extra time.
"We have brought people from other sites to take those positions - it can't be just anyone, they have to be skilled.
"I would love to employ everyone in Waipukurau and Takapau looking for a position but unfortunately there are a lot of people that fail the blood drug tests so we cannot take them."
Silver Fern Farms is being proactive about trying to change that culture.
"We have people coming into the plant advising staff such as chaplains and counsellors - and the people that we pick up on drugs, we put them through a rehabilitation plan that we pay for," says Laurie.
"We give them an opportunity to get themselves right but we also have contingencies where in case we need to retest over a period of time - we prefer to keep people here than see them out of a job."
- Central Hawke's Bay Mail
For more articles from this region, go to Hawkes Bay Today