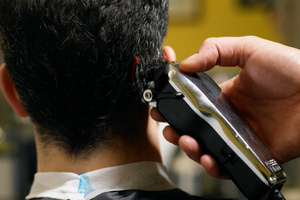 A hairdresser who was sacked after handing in her notice because a rival business paid $4 an hour more has been awarded $3550.
Heather Smith's former employer Craig's Hairdressers in Timaru has been ordered by the Employment Relations Authority (ERA) to pay her the amount for lost wages and compensation.
Ms Smith said today she was delighted by the finding.
"It was pretty stressful. I'm happy with the decision,'' she said.
Ms Smith claimed she was unjustifiably dismissed by her employer, Loretta Scott, a few weeks after starting at the barber's salon on 14 June last year.
A week after starting she received a call from the owner of another barber shop, the only competing barber in Timaru, and was told she could earn $18 per hour instead of the $14 an hour she was receiving.
Her boss Ms Scott was due to have a serious knee operation in early July and would be absent from the salon for 6-8 weeks. Ms Smith would at times have sole responsibility for the business.
However, Ms Smith believed her position would be made redundant after her boss's return - a claim Ms Scott refuted saying it was a permanent, full time role.
On July 9 Ms Smith handed in her resignation.
In it, she said she would continue to work for the company until August 24, "or sooner if your recovery is earlier''.
"I will continue to do my upmost best, and look after the shop for you, continuing to do my very best for you and your clients'', said the letter.
When questioned by Ms Scott's mother if she was going to work for the town's rival barber, Ms Smith said "yes, because I have to look after myself and he is offering me so much more money'', said the ERA finding.
Because of this, Ms Scott asked her to leave immediately.
Ms Smith said she had not been offered a job by the rival barber when she resigned, and did so without having another job to go to.
Since being dismissed she has not taken up a position with the rival business, saying no positions have come available and now intends to set up a mobile barber.
Authority member David Appleton said before dismissing the hairdresser, Ms Scott should have followed fair process, including calling a meeting to talk about her concerns and considering what steps she could have taken other than dismissal.
Mr Appleton found Ms Smith's dismissal was unjustified.
He awarded her $2800 for five weeks' pay and $750 for hurt feelings.
A claim by Ms Scott's lawyer that Ms Smith was blackmailing the business by going to a rival company was dismissed by Mr Appleton.
Ms Scott was "pretty disappointed'' by the decision.
"It's probably made me a bit more aware of the rules and regulations. I thought I was doing the right thing for my business,'' she said.
- APNZ