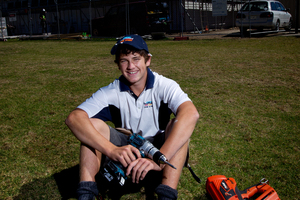 More than 350 young people have signed on as building apprentices since a $2000 bonus became available last Wednesday for the first 10,000 apprentices who sign up.
Another 60 have already signed up with the Skills Organisation for specialist trades such as plumbing, drainlaying, roofing, scaffolding and rigging.
The bonuses - $2000 each for apprentices and their employers in "priority" building-related trades and $1000 each in other trades - were due to start from April 1 to boost training nationally for the rebuilding of Christchurch.
Employment Minister Steven Joyce brought the start date forward to last Wednesday after training bodies reported that many employers were holding back until after April 1 to get the bonus.
The rush since last Wednesday means the 10,000 bonus places may now all be snapped up this year, rather than continuing into next year as the Tertiary Education Commission originally planned.
"Apparently their initial estimates were that it would take about 18 months, but because of the uptake they have reduced that time period to about 12 months," said Industry Training Federation policy manager Shaun Twaddle.
Building and Constructing Industry Training Organisation chief executive Ruma Karaitiana said he aimed to sign up 4000 of the 10,000 new apprentices this year in his sector alone.
"The Government is expecting the 10,000 places will last till the first quarter of next year. I doubt that. I think, if this is the response in the construction sector only, we might see them all used up by the end of this year."
He said 351 signed on in the first three working days after the March 6 starting date, compared with about 200 a month last year.
If he signs up 4000 by year's end as expected, building apprenticeships will be back to their pre-recession peak.
He said almost all the new signups were split evenly between Christchurch and Auckland.
"We do have reasonable levels out of Waikato and Taranaki as well, but provincial New Zealand is definitely not picking up yet."
He has a waiting list of 600 young people seeking apprenticeships.
"As soon as an employer contacts us we have someone to match them pretty well straight away," he said.
"This is a great time for a young person to be thinking about entering the industry, and for employers, if they are thinking about taking on an apprentice some time in the future, this is the time to do it.
"The other reality is that everybody will be looking for people at the same time so it's definitely the early bird catches the worm."
Garry Fissenden of the Skills Organisation, which trains apprentices in specialist trades, said his agency had signed 60 new apprentices since March 6.
Tim Densem of the Electricity Supply Industry Training Organisation, another priority area qualifying for the $2000 bonus, said new subdivisions normally accounted for about a third of his sector's work and trainee numbers were still 30 per cent below pre-recession levels, with about 100 young people on his waiting list.
"The Government, and the country, are paying for unemployed young New Zealanders who are not being trained, and companies just say, 'I'll go across to the Philippines and bring in someone who is a trained worker,"' he said.
"This will change that. It will help them take on apprentices."
On the web
www.tec.govt.nz

$2000 grant helps get building job
Just three months out of school, building apprentice Hayden Cameron believes he already earns more than anyone else from his class at Massey High School last year.
Mr Cameron, 18, signed on as an apprentice with Auckland builder Mike Imre last Thursday, the day after a $2000 bonus became available for apprentices in priority sectors such as building. He and Mr Imre will get $2000 each provided that he is still employed and training after 90 days.
He is already earning $16 an hour, $2.50 above the minimum wage.
"All my friends are on minimum wages," he said.
Mr Imre said he was happy to pay well for good workers, noting that Mr Cameron probably spent $100 a week just in petrol to drive from his home in Swanson to his first building site at Papakura, where he is helping to build a new gym at Kelvin Rd Primary School.
"As he's going through his apprenticeship, by the third year he'll be in the $20 bracket," Mr Imre said. "I pay around $35 an hour for a site foreman, $27-$30 for a qualified builder and $25-$28 for a hammer hand."
He said he had planned to take on another hammer hand in the next week, but would now employ another apprentice instead.
"Now with the $2000 I don't mind spending a bit of extra time helping him out," he said.
"I've had a lot of hammer hands coming through and they are turning into builders, so we are actually becoming top-heavy. Bringing in these younger guys is balancing out the structure, it actually means we can get bigger as a company."
Mr Cameron got the place because he had already helped to build a house on the Massey High School grounds as part of the school's building academy.
He gets up at 5am to get to work by 7am, and needs to do book work for his apprenticeship in the evenings. His grandfather and Mr Imre gave him his basic tools and his parents paid his training fee of about $1400 - a sum he will repay when he gets the $2000 bonus.