Big ambitions can mean big heartbreak for those who don't plan ahead.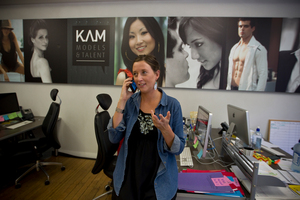 If you spent the holidays dreading your return to work, you're not alone. Recruitment agencies say people use this time of year to plot a change of direction.
But while you might have dreams of chucking in your day job and opening a restaurant, those who've done it say a big change can mean big heartbreak without preparation.
Employment website Seek found 70 per cent of New Zealanders would consider changing industries during their working life. Kinetic Recruitment said 10 per cent of those it helped into jobs wanted a completely new direction.
The Herald on Sunday wondered whether the reality of a career change was likely to stack up to the dream.
Opening a restaurant
Marisa Bidois, of the Restaurant Association of New Zealand, meets many people who want to start their own restaurant or pub. But she'd like to see more. Last year 200 new restaurants opened but their average lifespan was only 20 months.
"We could improve those statistics if [the owners] got in touch before they committed financially," she said.
Margins are tight in the industry and those who don't have a good understanding of costs can find things spiral out of control.
She said many people worked in their businesses seven days a week and ended up earning well below the minimum wage. Keys to success were to have the right location, understand your market and do thorough research before purchasing a restaurant.
Running a motel
Motel Association spokesman and broker John Griffin often hears from people keen to buy a motel during summer.
But it's hard, 24/7 work and if you don't like dealing with customers you'll probably hate it, he says. "It's a service industry, you need to enjoy people."
The average lifespan of a motel is about six years. How much money you can make varies and Griffin says it isn't good if you translate it to an hourly rate.
The biggest hurdle is the equity needed to buy a motel. They can sell for a few hundred thousand dollars through to $1.5 million - not including the buildings. Prospective buyers need to have at least a 60 per cent deposit.
Becoming an author
The number of Kiwi authors who make a decent income from their writing is tiny, says Society of Authors spokeswoman Maggie Tarver.
A study done for her organisation found an author's average income was $15,000. Most were earning less than that.
And you won't get rich writing romance novels, either - unless you're lucky, says Annika Ohlson-Smith of the Nelson Romance Writers of NZ. She says writers who make it their full-time job are few and far between.
A contract with a romance publisher such as Mills and Boon typically requires four 60,000-word books per year.
Online sales were making things better for authors, through websites such as Smashwords. "But it's bloody hard work."
Signing a record deal
For every high-profile musician who signs a $1 million licensing agreement, there are thousands who are existing on the benefit, says Tim Homer, programme director of Kiwi FM.
He said most musicians were earning next to nothing from their music. "Neil Finn makes a bucklet-load but the vast majority are on the dole."
At popular live venue the Kings Arms in Auckland, musicians aren't paid to play. A spokeswoman said the bands took door money so it was up to them to get enough people in to make the show worthwhile.
Review and revision
Through four years of university, Karina Cooper was clear about her ambition: she wanted to be a journalist. So, when the opportunity came to work on Whangarei's weekly community paper, she jumped at it.

Two years later, she has decided journalism is not for her and has traded shorthand and notebooks for model bookings and TV show auditions as a talent manager in Auckland.
She's earning $20,000 more than she was this time last year and works in a less stressed, more glamorous environment.
"It was a massive disappointment to put in that much time and money and now I don't think there's a future for me in journalism. But I'm now much happier."
She'd recommend others follow suit. "Unhappy workers can get chained to their job by numerous reasons, but breaking the bonds is invigorating as you get to recreate yourself in an entirely new profession - it's another shot at things."