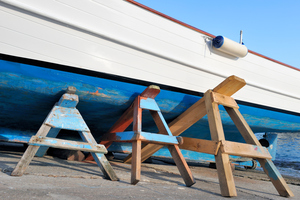 A boatbuilder who left Christchurch in the aftermath of the deadly February 2011 earthquake and believed he had lost his job on his return has been awarded $4000 compensation.
Solo father James McMurdo travelled to Hastings after the quake that killed 185 people because he and his 9-year old son could no longer live in their badly damaged house.
When he returned he thought he had lost his position at Davie Norris Boatbuilders after seeing a note in his timebook saying "abandonment of employment".
The Employment Relations Authority (ERA) awarded Mr McMurdo compensation for hurt feelings but found he was not unjustifiably dismissed
Mr McMurdo worked as an apprentice boatbuilder at the Bromley business that manufactures racing yachts.
When the magnitude 6.3 earthquake struck on February 22, he and the other employees left work to check on their loved ones and homes.
Employers Mr and Mrs Norris told staff the company would aim to reopen on February 28, but acknowledged not everyone may have heard them in the chaos, according to the ERA finding.
In the days after the quake, Mr McMurdo and his son moved out of their Aranui home and travelled to Hastings to stay with a relative.
During that time his mobile became flat and when he recharged it on March 1 he saw a missed call from Mr Norris. He returned it the next day and left an answerphone message to say he was trying to get back to Christchurch as quickly as possible.
When he returned to work on March 9 Mr McMurdo saw 'No word from him. Abandonment of employment' written in his timebook, causing him to become distressed.
He called Mr Norris, who was in Wellington, but he had no idea what Mr McMurdo was talking about and the note was written by his wife.
During subsequent conversations Mr McMurdo was invited to return to work but was available only part-time because the circumstances of his son's career had changed.
Those hours did not suit the company.
ERA member David Appleton found it had never been Mr Norris' intention to dismiss Mr McMurdo or to treat his employment as abandoned.
He said Mr McMurdo mistakenly considered himself to have been dismissed, but Mrs Norris needed to take some responsibility for writing in the timebook without approval by her husband.
Mr Appleton awarded Mr McMurdo $4000 for the injury to feelings.
Mr Norris declined to comment.
- APNZ