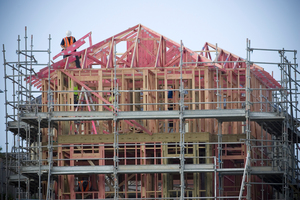 Wage growth remained subdued in the September quarter.
Statistics New Zealand's labour cost index recorded a rise of 0.5 per cent in private sector salaries and ordinary time wage rates, making 2.1 per cent for the year - both measures unchanged from the previous two quarters and in line with market expectations.
When the public sector and overtime are included the quarterly rise was 0.5 per cent and the annual 1.9 per cent.
Among the 56 per cent of pay rates which rose in the past year the median increase was 3 per cent and the average 3.8 per cent.
The index measures changes in salary and wage rates for a fixed quantity and quality of labour input.
Statistics NZ also publishes an unadjusted series which does not correct for changes in quality, like experience and qualifications. It rose 0.7 per cent in the quarter and 3.2 per cent over the year.
For construction workers the unadjusted increase over the past year was 6.8 per cent in Canterbury, as against 3.9 per cent in the rest of the country.
"With the Canterbury rebuild still at an early stage, we expect wage inflation to build and broaden over the next year," Westpac economist Michael Gordon said.
Meanwhile, the quarterly employment survey, also released by Statistics NZ yesterday, reinforces the picture of a sluggish labour market.
Unlike tomorrow's household labour force survey, this survey canvasses employers.
It recorded a fall of 0.3 per cent in full-time employment in the September quarter, offset by a 0.4 per cent rise in part-time employment.
Over the year the number of full-time equivalent employees (which counts a part-timer as half a full-timer) rose 1.6 per cent. Average weekly earnings rose 3 per cent or $30 over the year to $1043, reflecting a 2.8 per cent rise in hourly rates and a 0.4 per cent rise in paid hours per week.
By occupation hourly earnings range from $17 in the accommodation and food services sector to $39.50 in finance and insurance.
Despite the perception that manufacturing jobs are better paid than most, at $26 an hour they are below the average of $27.30.
Paid hours rose 1.9 per cent over the past year (in total, not per capita).
Together with higher rates of pay that contributed to a 4.6 per cent rise in total gross weekly earnings, a rough indicator of the increase in the combined spending power of wage and salary earners.
That is no better than the average increase recorded over the past two years, but with inflation having fallen to 0.8 per cent in real terms it represents an increase of 3.8 per cent.