$22m in transition grants for jobseekers include millions of dollars for interview outfits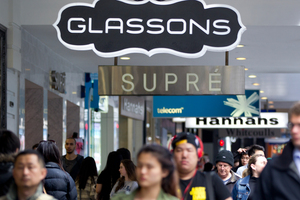 Jobseekers have spent thousands of dollars of public money at fashion favourite Glassons and men's outfitter Hallensteins in an attempt to impress future employers at interviews.
The Herald asked Work and Income for a list of the 10 stores where people had spent the most under its transition to work grant.
Just over $22 million was spent last year on the grants - which cover job search and placement costs as well as bridging finance - paid out in the period between the end of a person's benefit or final pay from previous employment and the first payment from their new job.
The figure was $656,955 more than in 2010.
Family department store The Warehouse was at the top of the spending list with $1.16 million paid out to 8792 people, followed by Farmers with $793,353.
Nearly $256,000 was spent at Glassons by women looking for work and $378,428 at Hallensteins by men kitting themselves out for interviews.
The list also included several safety equipment and clothing stores for tradesmen and farm workers such as Farmlands, NZ Safety, Bunnings, RD1 and Protector Safety.
Sapphire Consultants, a recruitment and training company, rounds out the top 10 with $210,551 paid out for 1797 people.
Winz deputy chief executive Debbie Power said the grants were spent at more than 7000 retailers last year. The most a person can receive in a year is $1500, but 95 per cent of the grants were less than $500.
"[The] programme supports people to move into employment by providing non-recoverable financial assistance for essential costs relating to seeking work, attending job interviews, moving into work, and transitioning from one job to another," Ms Power said.
The grants do not have to be paid back and may be provided to clients for a number of reasons, including if they need to purchase job-related safety equipment which the employer is not required to supply under the Health and Safety in Employment Act 1992, or they move towns to start a new job.
A recent university graduate on a benefit told the Herald she received about $1160 under the scheme this year.
She was given $160 for clothing and transport when heading to a job interview in Wellington and after being offered the job was given another clothing allowance worth $500 for her first week of work.
She bought a winter coat, jeans, a shirt, scarf and cardigan from Glassons and shoes from Number One Shoes.
After she got the job she found out she didn't get paid until she'd been working for a fortnight, so $500 more was put in her bank account to tide her over until pay day, because "the benefit payment stops as soon as you sign the contract".