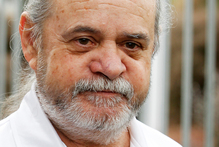 A man who promised dozens of New Zealanders jobs in lucrative Australian mining positions, for a price, is not saying whether they will ever see their money again.
Frank Allan Yeates, 60, yesterday appeared before community magistrate Kathryn Wilson in the Hamilton District Court on a charge of making a false statement on his AAAjobforyou NZ Ltd website and another of making a false statement with intent to deceive.
He is also alleged to have falsely said that his company was part of an international group, and to have operated the business with intent to defraud.
Between March and June this year, Yeates ran seminars aimed at people wanting to work in the mining industry in Australia and Papua New Guinea.
Many paid $390 up-front to have their resumes rewritten, while a small number paid a further $300 for Skype interviews with mining companies that never eventuated.
Outside court, Yeates refused to answer questions about what happened to their money, if he had secured jobs in Australia for potential employees or if he would ever give them refunds.
"The matter is in the hands of the court and we'll let them sort it out," he said.
Ms Wilson remanded him on bail to his Coromandel home. He is to reappear in court next month.
Detective Simon Eckersley said about 200 people invested more than $75,000 with Yeates after attending his seminars in Pakuranga, Tauranga, Hamilton and Rotorua.
He said it was possible more people could come forward with similar tales.
A 23-year-old beneficiary who has been unemployed for 18 months was hopeful of securing a mining job driving trucks. He went to a seminar in March.
"He seemed to say all the right things at the time and had answers to our questions but I haven't heard back from him," the beneficiary said. "It's not like I have heaps of money either."
Yeates has been struck off as a director several times since the early 1990s, according to the Companies Register.
In 2003, he was involved in a Fijian timeshare resort in which more than 100 New Zealand investors lost up to $15,000 each.
By James Ihaka

Email

James