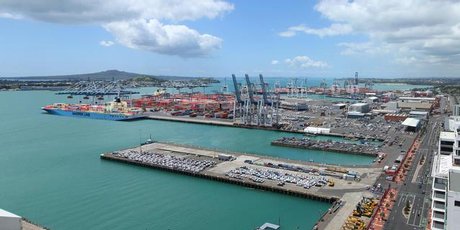 How embarrassing for Mayor Len Brown and the Ports of Auckland bosses who are trying to persuade Aucklanders of the urgent need to spend $28.7 million of ratepayers' money on a new cruise ship terminal.
From the ports company's own spin doctors comes news that the existing facilities are not quite as clapped-out as they would have us believe.
Ports of Auckland has just won the award as "most efficient terminal operation" in what is labelled the Oscars of the global cruise industry, an annual poll of the industry run by London-based magazine Cruise Insight.
When your bosses are trying to sell the inadequacies of the present facilities, it would seem like shooting oneself in the foot for the public relations team to put out a press release publicly contradicting the official line, but I guess they just couldn't help themselves.
They pumped out a statement quoting Ports of Auckland's general manager for multi-Cargo and marine, Wayne Mills, who declared: "This is a real accolade in a terminal that is considered to be operating over capacity, a truly outstanding result."
He said the award capped a record season servicing 97 visits from 30 cruise ships and processing 200,400 passengers.
The statement doesn't say how much extra profit it made from this bumper year, or how much it is planning to pull in from the 99 ship calls it says it has already booked in for the 2012/13 season.
But a ratepayer could ask, if the present facilities are earning such praise from the international industry, and business seems to be booming, why are the port bosses twisting the mayor's arm to hand over $28.7 million to flossy up Shed Ten on Queens Wharf.
Isn't being most efficient terminal operation in the world good enough? If there's a need to accommodate future growth, most efficient companies would build such costs into their own budgets, not go running to the owner for an off-the-books, free hand-out.
Talking of pie-in-the-sky schemes on the waterfront, expat Aucklander Bill Wavish has certainly found a way of letting us all know he's back in town, by offering to stump up a third of the cost of a new $300 million CBD/waterfront covered stadium.
Semi-retired, and chairman of lingerie giant Bendon, Mr Wavish is back as new chairman of the Warriors rugby league franchise, co-owned by Eric Watson, who also owns Bendon.
Mr Wavish doesn't like the present home of the Warriors, Mt Smart Stadium, and says they don't want to share Eden Park, which got a $240 million publicly funded upgrade for last year's Rugby World Cup. Instead, he wants a boutique roofed stadium somewhere downtown, and says he will cover $100 million of the costs if the Government and the ratepayers front up with the other $200 million.
My initial reaction is, what a shame Mr Wavish didn't get cherry-picked to be chairman of Auckland Theatre Company, or NZ Opera, or the council's own Regional Facilities Auckland board, because any one of them would have pointed him to a much more worthy home for his cash.
I'm certain they'd be happy to give him naming rights. The Wavish Performing Arts Theatre has a wonderful ring to it, and what did St James do to get a theatre named after him anyway?
For the $100 million he's tantalising us with, the imperilled St James Theatre could be rebuilt into the grandest theatre venue in the land. Alternatively, a brand new theatre complex could be built from ground up.
For a retiree, investing in such a facility would have the great advantage of giving you the chance to enjoy the fruits of your beneficence in your own lifetime. For I fear pinning one's hopes on slapping a huge sum of money on the table, and expecting John Key and Len Brown to be shamed into matching it, will end in tears.
Auckland already has three under-used stadiums at Mt Smart, Eden Park and North Harbour Stadium, all directly or indirectly bankrolled by Auckland Council.
For better or worse, before the World Cup, retro-fitting Eden Park was chosen as the best option. Neither the Government nor Auckland Council are now going to suddenly decide that $240 million investment was wrong, scratch around in their respective public purses and say, "Oh well, here's another $200 million, let's try again."
By Brian Rudman

Email

Brian