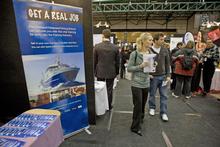 Over 100 different employment categories are on offer across Australasia at this year's Job and Career Expo. Director David Brunton says that with the improved economy, he has been able to draw in more exhibitors than last year.
"Last year was a real struggle in getting employers there. This year we've got a very good cross section of exhibitors offering a massive range of jobs, from your store man right through to your GP," Brunton says.
About 40 exhibitors will be on hand for the expo at the ASB Showgrounds on July 17 and 18. Brunton says there is usually a rush first thing in the morning and around lunchtime. So, it might be best to plan to visit late morning or afternoon.
Better still is to pre-book an appointment with some of the exhibitors you'd like to meet with. One free service that should prove to be very popular at the expo is the 20-minute CV critique offered by Career Services. Marketing and communications manager Wendy Goldswain says many CVs are simply too long.
"It's important to actually tailor your CV and highlight the skills and experience you can bring to that particular job," Goldswain says.
Bookings can be made online at www.careers.govt.nz/nzjobsexpo.
Brunton says the expo offers a rare opportunity for candidates to speak directly with the organisations that are hiring.
"It gives people the opportunity to meet people face to face and discuss the opportunities and where a potential candidate might fit.
"It also lets them gather information from some of the service providers like Career Services and Teach NZ and get a really good understanding of how to advance your career and maybe upskill with some of the universities and IT training providers," Brunton says.
The dress is business casual. You should bring a CV in hard copy and possibly on a USB stick, although not all exhibitors will be accepting them.
Some just want you to register with them either on paper or through their online kiosk at their stand. Like any encounter with a potential employer, Brunton says to review your elevators speech and be concise about your achievements and what you can offer.
You should be informed enough about the exhibitors so that you can ask them some meaningful questions. And no matter how long you may have been looking for a job, be positive, confident and smile.
This year's expo has quite a few Australian exhibitors, so if you're looking for a change there will be plenty of opportunity there - particularly in health.
"There's a global market now and there's a skill shortage when it comes to the health sector everywhere. A proportion of Kiwis are going to go overseas and we're really just facilitating that opportunity," he says.
Brunton says people are looking to move to Australia for career advancement, more opportunities, more money and more diversity to develop their career.
Margaret McCallum, recruitment consultant with South Australia Health, is looking for nurses and skilled health professionals at the expo. She says changing lifestyles has created a need for more workers.
"A lot of people choose work/life balance and therefore the trained people from 10 or 15 years ago maybe aren't working the 64 hours that they used to work. The next generation coming through certainly don't want to work 60-70 hours a week," McCallum says.
McCallum says the transcontinental relationship between New Zealand and Australia makes it easy for qualified health professionals to be able to practice their profession in both countries. And, unlike an OE in the UK, it's not a 24-hour flight home.
"People who are qualified in New Zealand can easily transfer their qualifications to work in Australia and still be close enough to home to do those family trips back."
South Australia Health is seeking dentists, dental therapists, mental health nurses and midwives. They're hiring across several sections of the hospitals including maternity, ICU and emergency room.
McCallum says nurses often use their qualification to be able to work all over the world and live a lifestyle of travel. She says although various countries are competing for skilled staff, there is no real animosity for pinching someone else's employees.
"We were at the expo in 2008 and were very well received. I've also attended other events where New Zealand recruiters were there with us in the UK," McCallum said.
Even people who might not be in the job market at the moment will benefit from going to the expo. They can have a look at where the jobs are, what types of opportunities are available and what the housing market is like where they might be moving.
When an opening comes up at South Australia Health, they usually need someone on the ground and running within six weeks. So starting the process early is a big help.
"The career expo is an opportunity to talk one-on-one with people, build relationships and then support them through the processes."
Kathryn Smith is also seeking nurses and therapists who can care for disabled people with complex needs. She is the acting executive director of large residential centres and specialist-supported living for Human Services New South Wales.
"We're just looking for registered nurses, enrolled nurses or assistants in nursing. We're also short on all types of therapists at the moment - speech pathology, occupational therapy, psychologists," Smith says.
The field of disability and home care has been hit by the ageing of its workforce. There are a lot of vacancies and it is a rewarding field.
"Working with people with disabilities provides great satisfaction. You can certainly get that satisfaction from knowing that you contribute to someone's quality of life. You can see from their behaviours, their smiles and their facial expressions that you have given somebody opportunity that they may not have had before."
No prior experience is required in working with people with special needs. Human Services provides a thorough orientation and induction process and they're looking for Kiwis.
"New Zealand has a reputation of committed ethical workers. We know that there's a good transition of people from New Zealand coming to Australia. There's not the difficulties of work visas, it's close by and we have similar cultures."
Smith says the expo is a good opportunity for them to put forward the opportunities they can provide to a targeted market.
"We understand that this job expo in New Zealand is popular with medical and allied health professionals across a range of occupations. They're the fields that we're interested in."
Human Services is not screening candidates at the expo and will not be collecting CVs. They are exhibiting so they can showcase the opportunities they can offer.
"Hopefully there will be a lot of interested people who will come up and seek information from us and we will be able to provide them with information."
Kris Attewell, regional manager at RossJuliaRoss, says the expo is about mixing and mingling as much as it is recruiting prospective candidates.
"Personally I've been doing expos for about 25 years. I'm a great fan of them and have always found them to be extremely valuable in terms of networking, getting contacts in other businesses and developing relationships."
Attewell is looking at building up their database and says the expo is a good way to reach candidates that otherwise could not be found.
RossJuliaRoss is a generalist recruiter and handles every job family in every sector. But she says the hottest job markets are in IT, healthcare and medicine. Even if there are no jobs in some areas at the moment, Attewell wants people to sign up with her for future prospects.
"When clients have the opportunity, we'll put people straight in there."
Excom Education is guaranteeing jobs at the expo for anyone who completes their condensed IT training course. Marketing manager Louise Shanahan says the course can be completed in just a few months.
"They get their certifications and then we guarantee them a job."
By David Maida

Email

David