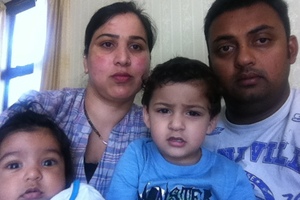 An Indian father of two boys born here is facing deportation after being convicted of helping illegal migrants find work.
Prubhjit Singh, a self-employed contractor from Blenheim, was found guilty of six charges of unlawfully aiding a person to stay in New Zealand in 2010.
But he told the Herald he was now a changed man and is fighting deportation to remain here with his wife Rajinder, a New Zealand citizen, and their two sons Veerjit, 2, and Sartajjit, 3 months.
Immigration New Zealand, however, said it wanted Mr Singh out of the country by tomorrow.
"Mr Singh has been unlawfully in New Zealand since his work visa expired on July 31, 2008, and he has been convicted of the serious offence of aiding six Indonesian ship jumpers to work illegally in New Zealand," said Peter Elms, the agency's fraud and compliance manager.
"In view of his criminal conviction and unlawful status, Immigration is not prepared to delay the deportation process." Mr Elms said Mr Singh would have the opportunity to present any humanitarian circumstances at a record of personal circumstances interview.
"All factors will be taken into account before any decision is made to deport Mr Singh," Mr Elms said.
Mr Singh, 29, said he had been in the business of contracting workers to vineyards since 2005, until the company, Singh Services, was put into liquidation by Inland Revenue under an order issued by the High Court at Blenheim in December.
In the earlier trial, Crown prosecutor Mike Turner had said the Indonesian men that Mr Singh helped were attracted to New Zealand by the chance to earn money on South Korean fishing boats, but jumped ship after conditions became terrible. They then started working illegally in horticulture.
Mr Singh arrived as an international student in 2002 and eventually obtained a work visa. Immigration adviser Tuariki Delamere, acting for Mr Singh, said he was fighting for him to remain in the country and a complaint against Immigration has been lodged with the Ombudsman.