People-first culture sees profits soar as engaged employees go the extra mile.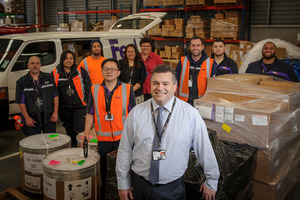 Human resources should not be left to people in the HR department, says Lee Davies, country manager of courier and shipping firm FedEx NZ.
He says all managers should know how to recruit and develop their staff.
"Our front-line managers are the ones that get involved in hiring and nurturing new employees," he says. "I believe each member of our management team really needs to be an HR professional.
"Gone are the days that you go to the HR department to have them find you a person to employ."
Davies believes this model should apply to all businesses and says that all too often HR is seen as the problem-solver for all staff issues.
"When in fact the real mission should be for every executive, every manager, to take responsibility for HR issues," Davies says.
Managers at FedEx NZ have to be involved in the recruitment process. "They have a great responsibility for developing the people they hire."
"The front-line manager is also the one that is going to address performance issues, so being equipped to think like an HR person is really essential in our business."
Managers at FedEx aren't left to their own devices when it comes to mentoring and managing their staff. The company has a training programme that managers attend over the course of 24 months.
"It helps them become true HR professionals," says Davies. "The one thing that all of the executives and the management team at FedEx strongly believe in is engagement, and you are not going to get anywhere unless the management team is absolutely 100 per cent committed.
"It is a real underlying philosophy we have - we call it our People, Service, Profit philosophy - the PSP. We have a people-first culture, that is our strength as a company."
FedEx NZ came fifth in this year's Aon Hewitt survey to find the best employers across Australia and New Zealand. It is the fifth time FedEx NZ has been short-listed as a "best employer" in the annual survey.
"Many Australian and New Zealand organisations are currently facing substantial market challenges," says Stephen Hickey, employee engagement practice lead at Aon Hewitt.
"Despite these challenges, boards, shareholders and other stakeholders expect most organisations to develop and deliver on growth targets.
"In this environment, there is significant value in organisations using employee engagement and the discretionary effort of their people to drive performance outcomes."
Hickey says the links between engagement, discretionary effort and productivity are proven, with Aon Hewitt Best Employers delivering on average 9 per cent more profit per employee and double the revenue growth of other organisations.
Despite this, and the increasingly competitive global market, he says only 31 per cent of Australian and Kiwi organisations are improving employee engagement levels.
Davies says making an extra effort to engage with staff in the run up to a survey is no substitute for a year-in, year-out commitment.
"You have to live and breathe that culture every single day," he says. "The heart and soul of our business is our people. If we take care of our staff, they will take care of our customers," he says.
Davies says managers doing things such as saying hello to staff every day, and getting to know what makes each member of the team tick, can go a long way.
"Knowing what makes each person motivated, what makes them come to work with a happy smile on their face - and then taking advantage of understanding those little things and acting on them - is key," he says. "We do an excellent job of communicating, and even though we are a global company we take into account local cultures.
"It may seem like common sense and easy to do. It is. But in the words of John D. Rockefeller: 'The secret of success is to do the common things uncommonly well."'
Steve Hart is a freelance journalist at SteveHart.co.nz
What makes a great workplace
A study by HR consulting and outsourcing firm Aon Hewitt has identified five characteristics of a good employer.
*Unwavering commitment from senior leaders to the importance of developing highly engaged and productive employees
*Clear performance expectations that align people to the organisation's goals and values, and bring meaning to their work
*People managers who create the conditions for people to excel
*Reward and recognition practices that encourage employees to contribute discretionary effort
*Clear communication on what employees can expect, which in turn helps the organisation to be more competitive in attracting and retaining people.
(Source / Aon Hewitt)