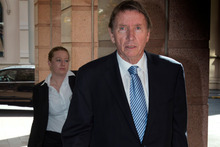 Clues to a suspected leak of Auckland port company email correspondence should be sought in the company's own paperwork, a Maritime Union lawyer told the Employment Court yesterday.
Colin Carruthers, QC, took umbrage at a suggestion by company lawyer John Haigh, QC, that the leak could have come only from "union sources".
Mr Haigh had complained to Judge Barrie Travis that a Herald reporter contacted the company on Monday seeking comment about an email which the lawyer said was among documents given to union lawyers under a legal discovery process.
He said someone outside the company and its legal team must have made the correspondence available, in clear breach of an Employment Court rule protecting the confidentiality of such material.
His instructions were that the material could have been obtained only from union sources.
But Mr Carruthers said that was "not the only inference available".
He said company documents made available to the union's three-member legal team were not passed to the union itself, at the union's specific request, and had not been disclosed by the lawyers to anyone else.
An explanation should be sought from the company's own paperwork "because I can assure you it [the leak] did not come from the plaintiff's side or the union - because it didn't have it", he said.
Mr Haigh told the court he had been unaware of the restriction on disclosure imposed within the union team "and that said, I am reassured".
Judge Travis said he was happy to accede to Mr Haigh's request to state in open court the rule governing the confidentiality of documents disclosed for legal cases, including a ban on their disclosure "by any person except as may be necessary for the conduct of the proceeding".
By Mathew Dearnaley

Email

Mathew