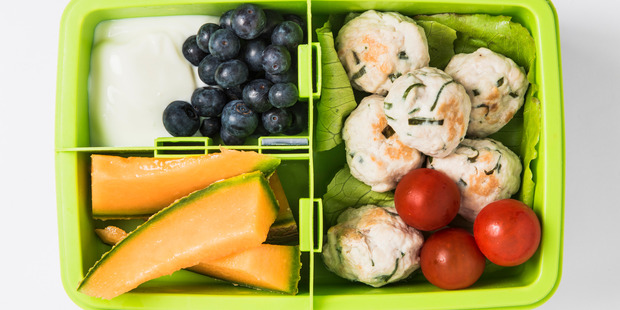 Nutrition: Kids' lunches can be healthy and fun. Energetic children need good protein and carbohydrates for energy so they can run around like mad at playtime and have brain power in the afternoon.
The trick is to make everything colourful and bite-sized, and include more fruit, vegetables, protein and whole grains and fewer processed foods.
Here are a handful of clever healthy lunch box tips:
• Include a rainbow assortment of fruits and vegetables. Full of vitamins, antioxidants, fibre, natural fruit sugars and juice, fruit and berries are natural lollies.
• No-one likes mushy sandwiches. Line the bread with lettuce before adding tomato or relishes.
• Mix it up. Use wraps, wholemeal pita bread, whole grain breads and mini rolls.
• Protein is essential for iron, active bodies and minds. Ensure you include lean meat, egg, nut butters, chickpeas or (sustainably sourced skipjack) tuna.
• Keep kids hydrated by adding chilled water.
• Studies show food colouring really affects kids' cognition, hyperactivity and learning. Ditch the artificial food colours, sweeteners and flavours.
• Use avocado with a squeeze of lemon juice or seasoned cottage cheese instead of butter or margarine.
• Whole fruit should be small enough for kids' hands as large fruit can be overwhelming enough to make them forget about eating it.
• I love grating or peeling vegetables for use in salads and sandwiches so it's manageable for small mouths.
• Cut food into fun shapes with star or heart cookie cutters.
• Chilled frozen water and diluted juices keep kids cool.
Add watermelon, cucumber, lemons, oranges, mandarin and or mint to water and leave in fridge overnight. Strain and bottle it. Store the rest in the freezer for the kids to take on hot summer days. It also keeps the food chilled.
Lunch box suggestion #1
• Tuna pita with seasoned cottage cheese spread and cos lettuce
• Carrot and celery soldiers with hummus
• A banana or peeled mandarin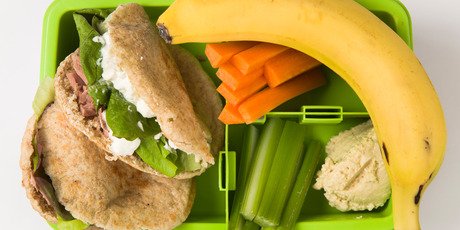 Lunch box suggestion #2
• Mini wholemeal pita pizza with Edam cheese, basil and tomato. Top pita bread and bake on oven at 180° on baking paper for 5-10 minutes or until golden.
• Almond, cranberry, cashew nut and sunflower seed mix
• Fresh strawberries or grapes (fresh or frozen)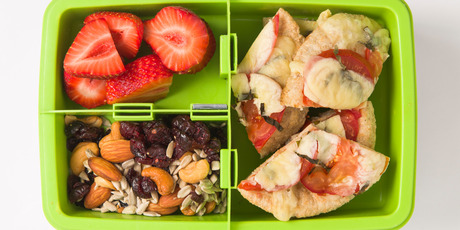 Lunch box suggestion #3
• Chicken mince balls go down well. Mix chicken mince with spring onion, mayonnaise, and season with salt and pepper. Make small balls and bake on tray lined with baking paper and cook in preheated oven at 180 until cooked through. Add toothpicks for easy eating.
• Add cherry tomatoes and lettuce cups to fold the chicken balls into. Kids love these.
• Melon and frozen blueberries and Greek honey/yoghurt dip
Like what you see? For weekly Element news sign up to our newsletter.
We're also on Facebook and Twitter.