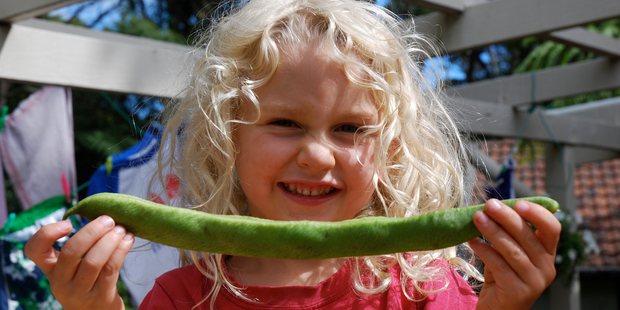 Organic gardening: If you remember when you first started gardening it was probably with a parent or grandparent and it might have involved one of a range of seeds that - for a kid - do magic things. If you have your own kids now and would like to get them into growing their own food then maybe try some of these fast and easy seeds to help stimulate a life of growing.
Sunflower - the ultimate skyrocket with a seed the size of your little finger nail that can easily produce a plant up to 12 feet in height. The Guiness Book of Records lists the world's tallest at 27 feet!
Start seeds in a small pot and plant out seedlings in rich, well-composted soil when they are about a six inches tall. Place seedlings in a sunny spot with protection from strong winds. Plant them about 20 inches apart and have something sturdy to tie the stems to as they grow.
Heads can be more than a foot wide and get heavy at the end of summer as they fill with seed. Seed is very popular with birds so why not let them feast after you have had the pleasure of watching your plants grow and flower.
You can save the seed of many varieties and eat them yourself.
Runner bean - fun to sow in a small pot and then plant out once seedlings have two sets of leaves.
Plant in rich, well-composted soil and place a wigwam of six foot tall bamboo canes over seedlings so they have something to clamber over. Flowers - often red - look pretty, and then come the beans which can be eaten whole when finger length or sliced if larger.
Many become stringy when pods get too long but then again there is always the bonus of the local 'Longest runner bean contest'.
Radish - fast growing, small peppery roots that are usually a rich deep pinkish red in colour. Fun for kids to sow the tiny seeds in their initials and then watch as small shoots spell out a name. Harvest radishes when they are still small as they start to get fairly peppery when large.
If you keep bees you can leave a few to grow on and develop a tall flower head - they will love it.
Tomato - home-grown, small cherry tomatoes are one of the sweetest things you'll ever come across. An delicious taste for young, developing palate.
Plant a seedling now and teach your kids how to pinch out the lateral shoots, use liquid feeds and even try some companion planting with basil and marigolds.
Tomatoes need rich soil, loads of sun and protection from strong winds. Many varieties need to be tied into sturdy bamboo stakes as they grow because trusses of fruit can get too heavy for the spindly stems and plants can collapse. The great thing is that tomatoes do ripen off the vine so any youngsters keen on a hasty harvest will still get a sweet result even if their picking is premature.
Get free seeds packs with all POD orders over $25 at the POD website.
Like what you see? For weekly Element news sign up to our newsletter.
We're also on facebook and Twitter.