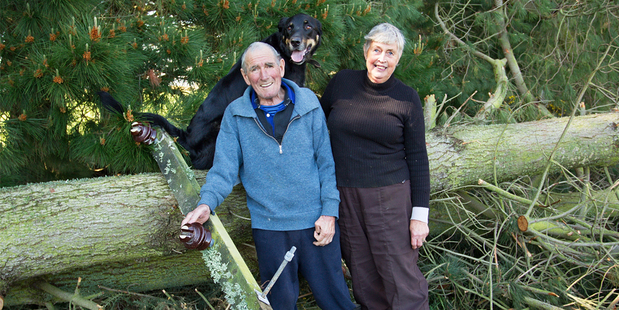 Farmers Jan and Barry Inwood put a dozen beers under their damaged power lines after a fierce storm left them in the dark.
They took away one bottle a day and when Orion linesmen finally turned up yesterday to reconnect the electricity on their Canterbury farm, there were no beers left.
"That'll teach them for taking so long to sort us old codgers out," 70-year-old Mrs Inwood said.
Yesterday, the Inwoods woke up for the 13th morning without electricity since the devastating 40-year storm ripped through their Leeston beef cattle farm by Lake Ellesmere on September 10.
The winds, topping 130km/h, felled thousands of trees across Canterbury and took out power to 28,000 Orion customers. While most had electricity back on within days, by yesterday afternoon around 50 rural homes were still without power.
It had been a miserable few weeks, Mrs Inwood said. A loaned generator kept their freezer running but they had struggled to keep warm inside their farmhouse.
"The only way to keep warm was as soon as it was dark, go to bed with plenty of blankets, woolly hats and a cup of tea.
"There was a couple of frosty mornings which were miserable. Yesterday and the day before, we were both looking blue. It was sent to try us."
She and 77-year-old husband Barry were able to cook on the gas fire, and managed to keep looking after their livestock. But it was travelling to her son's place for a shower in nearby Leeston township which Mrs Inwood found the toughest. "By the time I got home I was cold again," she said.
Federated Farmers adverse events spokeswoman Katie Milne said the past fortnight had been a nightmare for many rural Cantabrians.
Mrs Inwood had been phoning Orion every day. "It's just been such a big job, and there's only two houses on our road. It's not really their fault."
Orion said repairs sometimes took 10 or more linesmen hours to fix. "I appreciate the ongoing patience and tolerance of those still without power and I can assure them that we are doing everything we can to get them back on to the network as quickly and as safely as we can," said Orion chief executive Rob Jamieson.
- APNZ