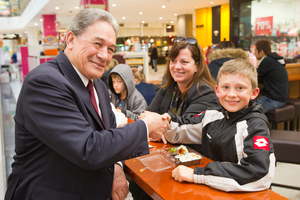 Shopping for socks and discussing his debating strategies, New Zealand First leader Winston Peters took his election campaign to Auckland's St Lukes mall this afternoon.
Posing for the odd selfie, Mr Peters took the time to make polite conversation with shop workers and security guards as he walked through the mall.
"How long have you been here?" he asked some. "How's business?" he asked others.
Meandering through the racks of clothes at Farmers and inspecting the store's sock selection, Mr Peters reflected on last night's televised small leaders' debate, saying it was too short and there were too many candidates for any robust debate.
The Campbell Live debate at Auckland's Grand Harbour Restaurant was also an inappropriate venue to discuss poverty, he said.
Some mall-goers stopped to congratulate Mr Peters about his performance in debate. "Well that shows you how bad the rest of them must have been," he said.
Mr Peters said the perennial question of who his party would enter a coalition with was only ever asked by journalists, and never New Zealand First supporters.
"The reality is people are wanting to know the outcome of the election before the vote and frankly that's seriously anti-democratic.
"The second thing is - what professional sportsman or woman would make a decision without all the facts? It just does not make sense to make a decision before that ... and our slogan is 'it's common sense'."
Offering his opinion on the leaders' debates, Mr Peters said there was a fine line between talking over an opponent and letting them hold the power in a debate.
"You can't afford to have someone over-talking you constantly, so you've really got to get them in a most embarrassing situation where they now look unreasonable.
"The faster you can get to that the better," he said.
"So much of politics is about promises that people make, but in the end as Clinton said; 'it's the economy', because if you haven't got the economy, you can't deliver what you say you're going to do and it's got to be a dual package - economic strength and social equity and fairness. You need both."
Tax cuts were an unaffordable carrot this election and the country couldn't afford them, Mr Peters said.
When 10-year-old Jackson Kirk recognised the New Zealand First leader and asked his mother, "Isn't that the president guy?", Mr Peters made no attempt to hide his happiness.
"You're so right," he said, later adding: "That boy will go far."
Another supporter yelled out to Mr Peters as he walked by that he had his guaranteed vote, adding "you've got to keep them honest".
"That's what I'm going to do," Mr Peters said. "You always have," his supporter beamed back.
"I'm going to do alright in this campaign," he concluded.
Later entering a Kmart store, Mr Peters finally settled on a pair of socks.
Questioned by the New Zealand Herald photographer whether they were in New Zealand First's official colour of black, he clarified that no, they were blue - "dark blue" - however, that was no indication of his chosen coalition partner.
- APNZ