Govt, bank and charities team up to give affordable loans to low-income earners.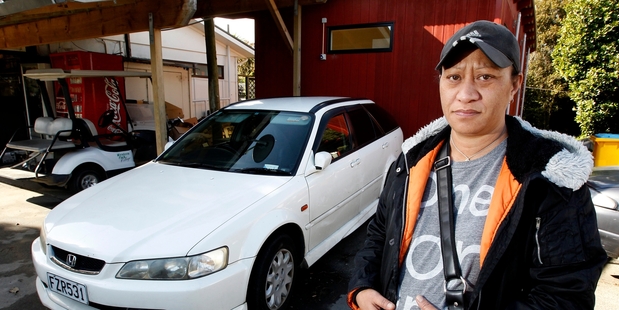 The Government and a major bank have declared war on "loan sharks" to help people like West Auckland mother Farrah Matthews, who agreed to pay $29,000 over four years for a car that was worth only $12,000 because she couldn't get even a $40 overdraft from her bank.
Ms Matthews, 37, was in bankruptcy due to previous debts in July 2011 when she signed the agreement with a car dealer to borrow the money at 29.95 per cent interest.
That didn't stop the car company offering to lend her the money as soon as she had paid off a loan for an older $6000 car.
"They sent me a letter saying since you have paid off the car, would you like to buy another one," she said.
"I actually told them I'm bankrupt, I'm not allowed to borrow. But I said to them I really need a car, a better car for work."
She was working as a postie so she could meet the payments of $142 a week, including renting a GPS system and ongoing registration, warrants of fitness and a mechanical warranty.
The 2002 Honda Accord was valued at $12,000, but the interest totalled $9360 and, with all the other costs, added up to total payments of $29,101.
Social Development Minister Paula Bennett vowed yesterday that a new low- and no-interest loan scheme would take business directly off such high-interest lenders.
"I say to loan sharks: look at who you are lending to," she said. "We are coming after you! We've done it through legislation, now we are doing it through providing a product."
The Government has already changed consumer finance laws requiring disclosure of more information, including standard fees and interest rates, and requiring lenders to be satisfied that a loan will not cause financial hardship.
It has now teamed up with the Bank of New Zealand, the Salvation Army and the Good Shepherd Trust to lend to people with bad past credit records, as long as they can repay a new loan.
The bank has put up $10 million in capital and the Government will pay $250,000 in the first pilot year for the Salvation Army to employ a loan officer at each of its Manukau and Henderson branches and for Good Shepherd Trust to employ a project manager. The Salvation Army will be the scheme's "front door", offering two kinds of fee-free loans:
StepUp loans of between $1000 and $5000 for up to three years at 6.99 per cent interest from yesterday.
No-interest loans of up to $1000 for up to 18 months from early September.
Both are only for "essential" costs, including second-hand cars, new household appliances and computers, and health and educational costs such as dentists or course fees.
Borrowers must qualify for a community services card, be unable to cover the costs from mainstream banks or Work and Income, but be able to provide bank statements or other proof that they can repay a loan. In principle, most of the 913,450 families with community service cards on June 30 would be eligible. but in practice the scheme will start small. BNZ head of community finance Frances Ronowicz said she would be happy if she could write five StepUp loans a week in the first few months.
Payday lenders such as Christchurch-based Save My Bacon, which advertises an annual interest rate of 547.5 per cent (1.5 per cent a day) for loans of up to 31 days, declined to comment.
Kyle Williams of Auckland-based Rapid Loans, who said he did not see his business in "anything like that sort of market", applauded the BNZ and the Government for "sticking their hand up" to help people with poor credit records.
On the web
salvationarmy.org.nz/loans
Annual interest rates
547.5%
Save My Bacon
365%
SmartCash, Cash Train
182.5%
Ferratum (default rate)
29.95%
Farrah Matthews' car loan
6.99%
BNZ StepUp loans
0%
BNZ no-interest loans
Sources: Company websites
Save My Bacon
Loan: $300 for 4 weeks
Fees: $43.00
Interest: $76.70
Total repayment: $419.70
BNZ No-Interest Loan
Loan: $300 for 4 weeks
Fees: Nil
Interest: Nil
Total repayment: $300
See our political video series click here.