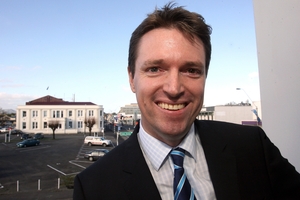 The Conservative Party has been blocked from using its new "Vote" logo on ballot papers after the Electoral Commission found it was likely to confuse voters.
The commission said this afternoon that the party would still be able to use the logo on its billboards and other advertising, but it could not be used on voting papers on election day.
It said the word "vote" already appeared on the instructions which are included on ballot papers.
"The Commission concluded that the appearance of the proposed logo as a party logo on the ballot paper featuring the word 'vote' could be regarded as instructive and therefore likely to confuse and mislead voters."
Conservatives already have an older logo registered, and this would be used on ballot papers.
In making its decision, the commission heard from the Conservatives and considered 148 submissions from the public. All of the public submissions were opposed.