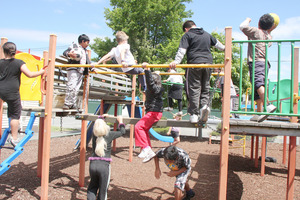 A Christchurch school has today launched a last-ditch legal battle in a desperate bid to stay open.
Phillipstown School will file judicial review papers at the High Court in Christchurch this morning against a Ministry of Education decision that it must close.
The decile one school with a roll of 165 will merge with nearby Woolston Primary, across the busy Ferry Rd, to create a 465-pupil super-school as early as next January, according to a controversial decision made by Education Minister Hekia Parata in May.
It was one of several schools to close or merge as part of the Government's $1 billion city schools shake-up.
But the decision to close Phillipstown, which has been on its site near the quake-crippled AMI Stadium since 1877, has enraged the school and local community.
They say Ms Parata's decision to close the school is illegal and in breach of the Education Act 1989.
The consultation process was "flawed", while information essential to the process either wasn't available, or it was misleading or missing.
"It is tremendously sad that we have to take legal action but it has become the only option left to keep Phillipstown School open," said Wayne West, Board of Trustees chairman.
"Given that the Minister's decision has now been gazetted, and her officials have already started implementing the closure of the school and the merger with Woolston School, the school has no choice but to seek an urgent hearing. If we wait any longer, there will be no Phillipstown School to save."
Education Ministry officials refused to hand over information needed to respond to claims about the costs of remediating the earthquake damage at the school and other property related issues, Mr West said.
"The Minister cited both of these as key reasons for her decision," he said.
The Crown has encouraged the school to file court proceedings given their concerns over lawfulness, and Mr West says they have been assured they will be given an urgent hearing.
"Closing our school will be massive blow to our local community," Mr West said. "But we are ready to fight for our students, their parents and our staff."
- APNZ