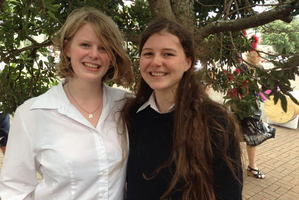 Sibling rivalry has proven to be a good thing for one Auckland family, with two sisters gaining top marks in the country in the Cambridge exams.
Gabriella, 18, and Francesca Templer, 15, of Orakei, have been named top in New Zealand in economics and history, respectively.
Their mother, Wendy Templer, said: "We found out today and we're just so happy with both of them. They're both very driven and self-motivated. They study every night and they're very good at summarising their notes."
The girls are among 105 students from around the country who gained grades in the top category worldwide. The Templer sisters attend ACG Parnell College, where six students topped a subject in New Zealand and four gained top in the world. Another gained a high achievement.
At Avondale College, four students topped in New Zealand in their respective subjects - accounting, biology, chemistry and physics.
A fifth pupil, Year 13 student Matthew Kendall, gained top in the world in psychology.