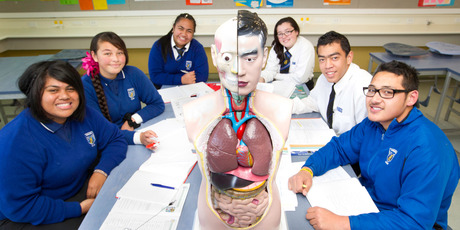 Science has never been cooler for a group of students at Tangaroa College, who dream of achieving big things in the world of medicine.
Sitting round a classroom table at their school in Otara, they are happy to reveal what each of them hopes to be one day.
"I want to be a nurse," Willie Tuigamala, 16, pipes up.
"I just feel they have an important role in the hospital. It's not exactly doctor, but that's what I'm aiming to be. There aren't many Pacific male nurses, I don't think, so that's me one day."
Other dream occupations listed do, however, include a doctor - Catherine Tumua - as well as a midwife, Poko Kaveriri, a physiotherapist, Iesha Green, a social worker, Melody Faumuina and a speech therapist, John Ioane.
The students, aged 15 and 16, are part of the Health Science academy at the school. The academy, set up in 2010, is a pilot programme running at Tangaroa, Otahuhu College and James Cook High School in Manurewa.
Funded by the Tindall Foundation and in association with the Counties Manukau District Health Board, the academy aims to get more students from the area interested in health science and prepare them for further study in the field.
The ultimate ambition is for graduates to go on to work within the Counties Manukau DHB - effectively giving back to their community.
Tangaroa's academy director, Lynne Savage, said the students received extra tutorials, got to hear from medical professionals and were part of mentoring programmes.
"There's a developing excitement about the whole thing - going to university, knowing there are challenges ahead but that beyond that is a career."
The three academies have a total of 137 students.
By Vaimoana Tapaleao

Email

Vaimoana