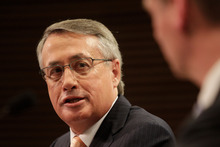 Up to one million Australians will be freed from paying tax under the budget presented by Treasurer Wayne Swan last night.
While carving more than A$33 billion from spending elsewhere, Swan used projected revenue from the Government's new mining tax to announce a "benefits of the boom" package to spread the nation's resource wealth more widely.
"For too many Australians this feels like someone else's boom," Mr Swan said.
With Labor facing disaster at next year's election, Mr Swan's "battlers' budget" aims to help struggling households.
He will treble the tax-free threshold from A$6000 to A$18,200, meaning up to one million more workers will no longer have to pay tax on their income.
More than seven million workers earning less than A$80,000 a year will receive taxcuts.
And parents with children at school will be given a new "schoolkids' bonus".
The Government will pay them A$410 a year for each primary school pupil and A$820 for each secondary student. "The tremendous opportunities of the mining boom should be shared fairly with all Australians," Mr Swan said.
"Ours is a country where people who work hard should get fairly rewarded, where there's an optimism that comes with economic and social mobility."
By Greg Ansley

Email

Greg