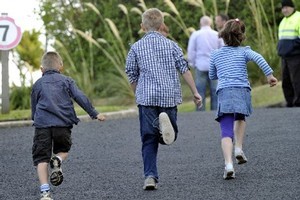 Rotary Park School principal Carmel Casey has gone on paid leave until further notice.
Mrs Casey requested leave last week and was granted it, Cleave Hay, the commissioner steering the school through troubled waters, said. She left at the end of the following day, just one day before the end of the first school term.
Her leave was "discretionary leave as allowed for in her employment agreement", Mr Hay said.
Parents were informed in a newsletter last Wednesday.
Mrs Casey has been at the centre of allegations of incompetent teaching practices and staff bullying. Matters came to a head at the start of this year when parents and staff learnt she was returning to the school after six months' leave.
On the first day of school, some parents staged a protest march and withdrew their children.
One teacher was granted unpaid leave for the first term.
The roll, which was about 60 last year, dropped to 31 at the start of this year and dropped again to 21.
Asked how parents and staff had reacted to Mrs Casey going on leave, Mr Hay said he did not want to comment. However, he said the mood among staff had been "very professional" throughout the first term and remained so last week.
Mr Hay said he said he did not know how long Mrs Casey might be on leave but expected it would be some weeks.
What happened next depended on two factors, he said - whether Education Minister Hekia Parata decided to close the school or not, and the results of an independent investigation being carried out into the allegations against Mrs Casey.
Mr Hay has written to Mrs Parata recommending the school be considered for closure because of low pupil numbers and community submissions were called for.
Mrs Parata had not yet made her decision, he said.
The investigation report, which Mr Hay expected would contain recommendations which "he and legal advisers would consider and act upon if necessary", could be completed this week.