The Goodman Property Trust chief executive, son of a forestry worker, reveals how he inherited his love of the land from his father.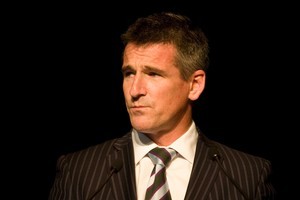 What did your parents do?
My father, Andrew, was a forester. He came out from Britain when his family moved to New Zealand. He was 17 at the time. So he started on a chainsaw down in Southland and he ended up working for the Auckland Regional Council running their forests in Hunua. Dad was always a bit of a greenie, happy to chop down pine trees, which are renewable, but very protective of native bush. We lived on a plot of land at Hunua where he planted many native trees including his own kauri grove and covenanted it to ensure it could never be cleared. My mum, Alison, was a mother and a piano teacher.
Did that or any other family influence play a big part in your career choice?
Probably Dad because he had a strong connection to the land so that probably influenced my desire to have a job that was not just in an office, getting out and about and having some links to the land.
If you hadn't gone into the business world, what do you think you'd be doing?
My 10-year-old son asked me the other day what would be my ultimate job and I said I would like to be the All Black captain but that was never going to happen.
I love doing what I'm doing and if I wasn't doing this, I may have ended up in education - possibly a teacher, maybe at the university.