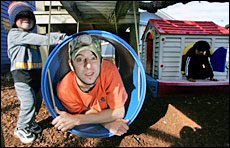 As an early childhood teacher, Dylan Topping says displaying affection towards children was of "incredible importance".
But up until now, his union has advised him not to have physical contact with children.
The conviction of Peter Ellis for sexually abusing children at the Christchurch Civic Childcare Centre resulted in the New Zealand Educational Institute drawing up a code in 1998 which warned against touching children as it could be misconstrued.
But today the union, which represents staff at primary schools, early childcare centres and special education centres, launched new guidelines on physical contact which encourage "positive and affirming" contact to provide emotional support or to praise a child.
The major shift on physical contact has been welcomed by Mr Topping.
"They need to see it's acceptable behaviour for men and that it's okay for men to display affection like that and to encourage and praise children in any way they can," Mr Topping said.
He said the move had the potential to change much for male teachers.
"The more I can be involved in the day-to-day routines of the children the better off they are," he said. "They need to understand that it's okay for a guy to be involved in that and to nurture children ... I've always been a teacher at heart."
Mr Topping, who works as an early childhood teacher at Bayfair Childcare Centre, said it was cases such as the Ellis one that put a lot of males off teaching.
At his request, he does not supervise the children at his workplace while they are sleeping or having nappies changed.
"That's something that I requested to provide safety for myself personally. As a male and a professional I need to make sure my practice can't come into question.
"As far as picking up the kids and comforting them when they're crying or a bit of rough and tumble play and stuff like that, I mean I'm right into that and we do heaps of it here. My practice is constantly changing and developing the more I study and the more I learn," he said.
The 26-year-old is in his second year of a teaching degree with the New Zealand Tertiary College and has been working at Bayfair Childcare Centre for two years.
Mr Topping said not all parents felt comfortable having their children taught by a male but most came around once they got to know him.
"There's always one or two. There are quite a few parents who are surprised to find a bloke working in early childhood but once we get to know each other and we've established a relationship they see where I'm coming from," he said.
"I find a lot of the parents really appreciate having a male teacher," Mr Topping said.
Julia Trim, manager of Papamoa's Bright Beginnings Community Childcare Centre, said it was unlikely for a male teacher to be left alone with children in an early childcare centre because there was always more than one teacher on duty at any one time.
Male primary teachers were more isolated and the New Zealand Educational Institute needed to make sure they were safeguarded under the new, more liberal, guidelines.
- BAY OF PLENTY TIMES