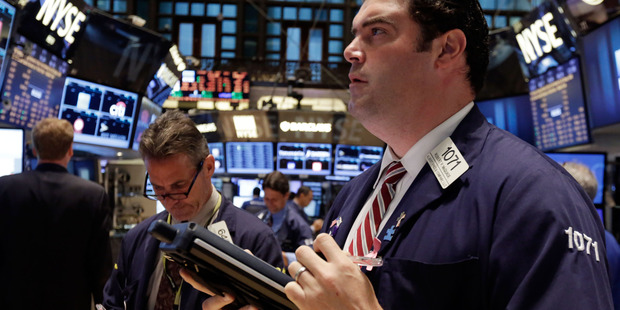 Wall Street eked out gains as merger and takeover activity outweighed concern about rising oil prices and escalating chaos in Iraq and an IMF downgrade in its US economic growth forecast.
In the final hour of trading in New York, the Dow Jones Industrial Average rose 0.05 per cent, the Standard & Poor's 500 Index added 0.09 per cent, while the Nasdaq Composite Index gained 0.17 per cent.
In the Dow, gains in shares of Chevron, up 1.2 per cent, and those of Home Depot, up 1.1 per cent, outweighed declines in shares of UnitedHealth, down 1.2 per cent, and those of General Electric, down 0.9 per cent.
The International Monetary Fund downgraded its outlook for the US economy, lowering its 2014 prediction to 2 per cent because of harsh winter weather, from a 2.8 per cent forecast in April. It maintained its 2015 forecast for 3 per cent growth.
"Job growth has been healthy but labour markets are weaker than is implied by the headline unemployment number: long-term unemployment is high, labour force participation is well below what can be explained by demographic factors, and wages are stagnant," the IMF said in a statement.
"With better growth prospects, the US should see steady progress in job creation."
"However, headline unemployment is expected to decline only slowly-in part because improving prospects will draw discouraged workers back into the labour force-and long-term unemployment will take time to fall to historic levels," according to the IMF.
Separate reports on Monday showed that US factory production rose 0.6 per cent in May, compared with a 0.1 per cent decline in April, which was less than previously thought, while the New York Fed's Empire State business conditions index posted its highest reading in four years in June.
US shares of Dublin-based Covidien jumped, last up 20.7 per cent, after Medtronic agreed to buy Covidien for US$42.9 billion as part of a move to relocate its executive headquarters to Ireland from the US to take advantage of lower tax rates. Shares of Medtronic fell 1.4 per cent.
Shares of Williams soared, last up 6.9 per cent, after the company agreed to acquire control of Access Midstream Partners for US$6 billion with plans to merge the companies.
"The M&A absolutely keeps on coming," Ken Polcari, director of the NYSE floor division at O'Neil Securities in New York, told Reuters. "It's ripe for it with rates so low, all this money on the balance sheet and companies looking to grow their businesses."
Even so, gains were limited as oil prices continued their climb on concern about the potential for supply disruption from Iraq. Brent for August settlement rose as much as 0.7 per cent to US$113.28 a barrel on the London-based ICE Futures Europe exchange, according to Bloomberg News.
Shares Yahoo! sank, last down 5.2 per cent, after Alibaba Group posted disappointing revenue.
"Alibaba's numbers look as if revenue growth is slowing down and margins are lower than expected," Sameet Sinha, an analyst at B Riley & Co, told Bloomberg News. "Their mobile as a percentage of total transaction value has increased dramatically, and people tend to spend less on mobile."
In Europe, the Stoxx 600 Index ended the day with a 0.5 per cent drop from the previous close. The UK's FTSE 100 and Germany's DAX each slid 0.3 per cent, while France's CAC 40 slumped 0.7 per cent.