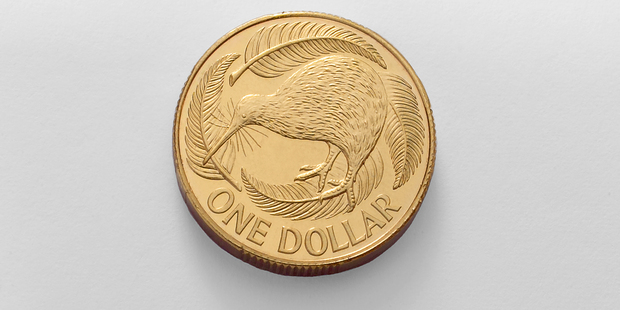 The New Zealand dollar has weakened as investors bet better jobs figures in the US point to a revival in the world's largest economy which could see the Federal Reserve taper its monetary stimulus programme as early as December.
The kiwi declined to 82.14 US cents, from 82.33 cents at the 5pm market close yesterday. The trade-weighted index slipped to 76.94 from 77.05 yesterday.
Investors are mulling the prospects of the Fed reducing its US$85 billion a month bond buying programme this year rather than next after a report last week showed better-than-expected jobs growth. The stimulus programme has increased the amount of US dollars in circulation and a pullback would strengthen the greenback.
"The US dollar strength is lingering following on from the better than expected data," said Peter Cavanaugh, client advisor at Bancorp Treasury. "The jobs data made everybody excited about the prospect that this recovery is on track. It's increased the possibility of a December start (to tapering)."
Traders will be keeping an eye on the Reserve Bank's latest six-monthly Financial Stability Report, scheduled for release at 9am, after which governor Graeme Wheeler and deputy governor Grant Spencer will front a press conference.
Bancorp's Cavanaugh said the Reserve Bank is unlikely to be seeing the effects yet of restrictions on low-equity mortgages that started October 1.
"It's still too early, we need a full few months' worth of data," he said.
A report on food prices for October is scheduled for release at 10:45am.
The kiwi advanced to 88.35 Australian cents from 88.15 cents yesterday, following a report yesterday showing weaker Australian business confidence.
In Australia today, traders will be eyeing reports on Westpac consumer confidence for November and third quarter wage costs.
The kiwi edged lower to 81.84 yen from 81.95 yen yesterday. The local currency advanced to 51.63 British pence from 51.50 pence yesterday after a report showed lower than expected inflation in October.
"The UK CPI data will fuel expectations that the BOE's forward guidance will remain accommodative, although this is also conditional on the state of the UK labour market," Carrick Lucas, a strategist at ANZ New Zealand, said in a note.
UK employment data and the Bank of England's inflation report are scheduled for release overnight.
The New Zealand dollar weakened to 61.15 euro cents from 61.43 cents yesterday ahead of a Eurozone report on industrial production for September.