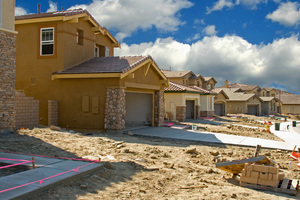 Australian home loan approvals have fallen for the first time this year, but economists expect the housing sector to strengthen in the months to come.
The number of home loans approved in August fell 3.9 per cent, the Australian Bureau of Statistics said, more than the 2.5 per cent fall economists had expected.
CommSec chief economist Craig James said the housing sector has been strong all year, and one month's fall is not significant.
"It's August data ahead of a September federal election, and it may have been a number of buyers were holding off until the election was out of the way," he said.
"The auction results over the past weekend in Sydney and Melbourne were reasonably buoyant, there's no anecdotal evidence the housing market is losing pace."
James said a number of analysts have expressed concern about the excessive strength of the housing market over the past month, but the August data shows some prospective buyers may be shying away from the market because of higher prices.
He still thinks the Reserve Bank of Australia will keep its cash rate unchanged at a record low of 2.5 per cent, as long as the US government comes to an agreement on the country's debt ceiling.
RBC fixed income and currency strategist Michael Turner said a correction in August after a string of rises in home loan approvals was to be expected.
"It is unlikely to mark the beginning of a weakening trend," Turner said. "We continue to expect modest growth in residential construction over coming quarters."
The Reserve Bank of Australia's August cash rate cut, to 2.5 per cent, should boost the housing finance figures later in the year.
"We expect the market for homes to remain broadly firm into year-end as the market adjusts to the August rate cut," Turner said.
"The flow-through to construction activity remains muted, however, despite the signals provided by higher prices."
- AAP