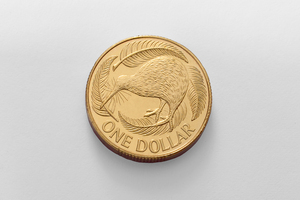 The New Zealand dollar rose to a four-month high as investors are attracted by the outlook for rising interest rates amid an increased risk appetite and as expectations are pared back for Federal Reserve tapering of monetary stimulus.
The kiwi rose as high as 82.48 US cents, trading at 82.37 cents at 8am in Wellington from 81.66 cents at the 5pm market close yesterday. The trade-weighted index gained to 77.10 from 76.58 yesterday.
The New Zealand dollar was the best performing currency in Northern Hemisphere trading amid expectations the Fed will announce only modest reductions to its monthly US$85 billion bond buying tomorrow following a two-day meeting. Increasing the lure of the kiwi, New Zealand Reserve Bank governor Graeme Wheeler last week indicated interest rates are set to rise next year.
"It's solely a kiwi affect," said Peter Cavanaugh, client advisor at Bancorp Treasury.
"It probably is a combination of factors, the after-glow of Wheeler's comments and an accumulation of other effects, the changing global risk sentiment with Syria appearing to be calming down and the approaching Fed meeting and the tapering off of tapering expectations.
"We are the only developed nation with a central bank saying we are going to be putting up interest rates next year," Cavanaugh said. "We tick a lot of boxes."
The Fed is scheduled to announce its decision on tapering about 6am tomorrow New Zealand time. A Reuters poll shows economists expect the Fed to reduce the asset purchase programme by a modest US$10 billion. The withdrawal on Monday of former Treasury Secretary Lawrence Summers from the list of candidates to lead the Fed is seen as reducing the chances of a rapid cut in monetary stimulus.
The overnight gain in the kiwi occurred before the latest GlobalDairyTrade auction this morning, said Bancorp's Cavanaugh. Prices of dairy products rose in the latest auction while volumes continued to fall from record levels reached last month.
Traders today will be eyeing a report at 10:45am on New Zealand's current account deficit. The report will show the deficit widened to $1.81 billion in the second quarter from $600 million in the first three months of the year, according to a Reuters survey.
The New Zealand dollar rose to 87.99 Australian cents at 8am in Wellington from 87.77 cents yesterday and increased to 81.65 yen from 81 yen. The local currency advanced to 61.66 euro cents from 61.23 cents yesterday and gained to 51.78 British pence from 51.36 pence.