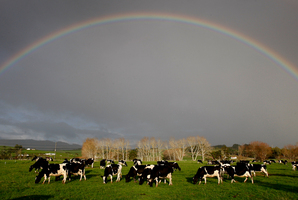 The economy may have contracted in the June quarter, as the effects of the summer drought hit home, economists say.
But when they warn that Thursday's gross domestic product number may have a minus sign in front of it, it is in a "that was then, this is now" sort of way.
Bank of New Zealand, ASB, ANZ and Westpac economists all forecast GDP to have declined in the June quarter, but to rebound in the September quarter, by 1.3 per cent, over 1 per cent, over 1 per cent and 0.9 per cent respectively.
"We estimate agricultural output dropped by around 8 per cent, following a 4.7 per cent fall in the March quarter," Westpac economist Michael Gordon said.
The drought not only reduced reduced milk production over the first half of the year, it saw farmers bring forward livestock slaughter into the March quarter. Manufacturing data released last week recorded a 10 per cent drop in sales volumes from meat works and dairy factories.
"And while manufacturing sale volumes excluding meat and dairy were not negative in the June quarter, they were still disappointing in posting only the smallest of gains from the previous quarter," BNZ economist Doug Steel said.
"This coincides with what clearly looks like an against-the-trend dip in building work in the quarter."
Statistics New Zealand reported a 1.8 per cent drop in the volume of residential building activity in the June quarter, the first fall in a year, following an increase of 11 per cent in the March 2013 quarter. "We suspect this simply reflects normal volatility in the survey of building work completed," Gordon said.
The gathering pace of rebuilding work in Christchurch, reinforced by the need to meet pent-up demand for house construction in Auckland, is one of the reasons the Reserve Bank last week forecast annual economic growth to pick up to 3.5 per cent by the middle of next year.
ASB chief economist Nick Tuffley said the construction sector had become very bullish in recent months, with business surveys recording a surge in commercial construction expectations.
The BNZ-Business New Zealand performance of manufacturing index over July and August recorded the strongest two-month readings for nine years. Consumer and business confidence is also strong and credit growth rising.