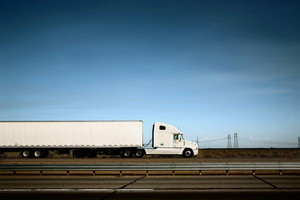 ANZ's Truckometer indicators are pointing to a real lift in the economy's momentum that will persist, ANZ economist Sharon Zollner says.
The heavy traffic index reflects traffic on 11 roads selected because historically they have proven an accurate proxy for economic activity at the time. The index had jumped 10 per cent in July and held on to most of that gain last month, slipping just 1.5 per cent.
"The upward trend in the heavy traffic index is now definitive, boding well for gross domestic product over coming months and corroborating the earlier predictions of the light traffic index, with its six-month lead on GDP," Zollner said.
The light traffic index fell 0.3 per cent in August, holding on to more than half of its 0.8 per cent rise in July.
"The trend for this series remains firmly upwards, though the rate of increase is slowing a little," Zollner said.
In trend or smoothed terms the light traffic index is nearly back to its pre-recession 2007 levels.
As a pointer to GDP growth six months ahead it suggested the current lift in economic momentum would persist over the second half of this year and into next year, she said.
The fact that July's outsized gains had not been followed by equally large falls and the index levels had held up close to their highs was encouraging.
Zollner cautioned that the Truckometer, which she devised, provided a steer on the economy's base momentum; factors like last summer's drought could blow quarterly out-turns for GDP around. ANZ suspects the June quarter's growth, due to be reported next week, was hit the hardest.
But if the June number turned out to be none too flash, it should be seen in the context of solid trend growth and early signs September quarter growth would be strong, she said.