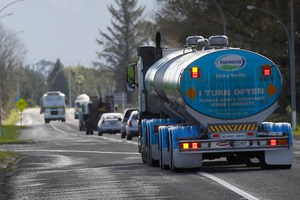 Export and import prices moved in New Zealand's favour in the June quarter, but the effect was swamped by lower export volumes and rising imports so that the trade balance worsened.
The terms of trade rose 4.9 per cent, to be 2.5 per cent below the 37-year high reached two years ago. An increase in the terms of trade means the country can buy more imports with the same amount of exports. Export prices rose 3.4 per cent in the quarter, the largest quarterly increase for two years, but without higher prices for dairy products the increase would have been just 0.1 per cent, Statistics New Zealand said.
But while dairy prices rose 14 per cent, the volumes of dairy products exports were hit by the summer's drought and fell 18 per cent, seasonally adjusted, and the value of dairy exports fell 6.8 per cent.
ASB economist Christina Leung said the rise in dairy prices largely reflected the effects of the drought, as supply concerns drove a surge in prices over March and April.
"Although improved weather conditions have seen an easing in supply concerns and in turn global dairy prices more recently, prices remain very high," she said.
"Meanwhile, the effects of the recent Fonterra contamination scare on global dairy demand and prices appear limited."
Fonterra's upward revision of its forecast milk price payout illustrated the income boost from the strength in global dairy prices, Leung said, with the revision to $7.80 a kilogram of milk solids from $7.50 estimated to boost farm revenue by $450 million.
The meat industry saw both prices and volumes fall, by 2 and 7 per cent respectively.
Westpac economist Nathan Penny said that with a wet autumn and mild winter he expected agricultural production and exports to rebound quickly over the rest of 2013.
Forest product prices rose 4.2 per cent in the quarter, offsetting a 3.3 per cent fall in volumes. Although the New Zealand dollar fell against the US dollar, overall on a trade-weighted basis it rose 0.7 per cent. Overall, export volumes fell 6.7 per cent in the quarter, driven by the drop in dairy shipments, while import volumes rose 3.9 per cent.
The net effect in dollar terms was a seasonally adjusted decline of 4.6 per cent or $500 million in the value of New Zealand's exports compared with the March quarter, while imports rose $250 million or 2.4 per cent.
For the year ended June, export receipts fell $700 million or 1.6 per cent.