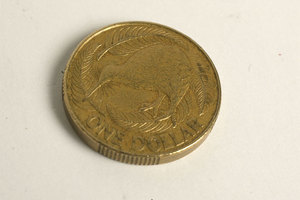 The New Zealand dollar rebounded from an eight-month low, after failing to break below 80 US cents, as some traders deemed the initial response to Federal Reserve chairman Ben Bernanke's comments on a possible end to quantitative easing was an over-reaction.
The kiwi dollar rose to 81.38 US cents from 80.26 cents at 5pm in Wellington yesterday. The trade-weighted index rebounded to 76.73 from 76.06.
The kiwi fell as low as 80.04 US cents late yesterday after a survey suggested China's manufacturing sector is contracting and Japan's Nikkei 225 Index plunged 7 per cent.
That followed Bernanke's much-anticipated testimony to the Joint Economic Committee of Congress in which he said the amount of monetary stimulus could be reduced on signs of a sustained improvement in the US economy.
"The strength we saw in the US dollar after Bernanke's comments the night before has been unwound," said Dan Bell, currency strategist at HiFX. The greenback was seen as over-reacting to the comments when he was really saying nothing new.
"We've seen a classic short squeeze overnight."
Bell says the kiwi may trade in a range of 81 US cents to 81.80 cents today.
Markets across Asia were rattled by HSBC's China purchasing managers' index showed a preliminary reading of 49.6 in May, where a reading below 50 indicates contraction. China is the biggest export market for both New Zealand and Australia.
Bell said while the PMI added to the negative sentiment, traders had shrugged off the data and wanted more evidence of the trend in Chinese manufacturing. The overall trend for the US dollar was still positive, he said.
The kiwi rose to 83.59 Australian cents from 83.21 cents and gained to 82.89 yen from 82.44 yen. It advanced to 62.93 euro cents from 62.46 cents and was up at 53.87 British pence from 53.39 pence.