Local firms with exposure across the Tasman face headwinds, experts say, as Australian growth slows.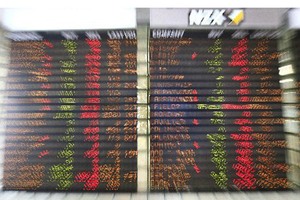 A softening Australian economy has forced several ASX-listed companies to downgrade their earnings prospects over the past month, and a clutch of NZX-listed companies with exposure across the Tasman are also likely to feel the pinch, analysts said.
Early this month, the Reserve Bank of Australia cut its official interest rate by 25 basis points to a historic low of 2.75 per cent - the first reduction this year.
The bank, in releasing the minutes of the board meeting that decided on that course of action, said Australian GDP growth was expected to be a little below trend over 2013, before picking up through 2014. The minutes noted that there had been a pull-back in coal investment plans and that a "significant amount" of investment in iron ore projects had finished.
Morningstar, the independent equities research house, said a series of Australian engineering and construction firms had downgraded their earnings outlooks over the past month because of project deferrals and a slowdown in capital investment in the resource and infrastructure sectors.
Last week, Australasian resins maker Nuplex said its earnings before interest, tax, depreciation and amortisation (ebitda) for the 2013 financial year were expected to be between $124 million and $129 million, down from a previous guidance range of $135 million to $140 million.
Nuplex said the revision was due to more challenging market conditions in Australia and Europe, and a stronger New Zealand dollar.
"In Australia, manufacturing markets have been much weaker than expected in 2013," it said.
Closer to home, Fletcher Building, which derives 43 per cent of its revenue from Australia, has painted a positive picture of its New Zealand operations but is more guarded about its Australian prospects.
At an investment presentation on May 2, the company said an increase in New Zealand housing consents in the first half should lift the performance of businesses exposed to the residential sector in the second half. New Zealand infrastructure projects continued to underpin non-residential activity and reconstruction work in Canterbury was expected to remain at high levels.
But Fletcher Building was less than upbeat about Australia, where a downturn in residential and weak commercial construction activity was likely to remain a factor in the second half, it said. Cost-cutting would partly offset the impact of continued weak trading conditions across the Tasman, it said.
Other NZX companies with a big presence in Australia include logistics provider Mainfreight and the dual listed outdoor goods retail chain, Kathmandu.
Mint Asset Management portfolio manager Shane Solly said Australia was coming off a massive rate of growth and one that had been heavily skewed towards mining.
At the same time, the booming resource sector had choked off the east coast economies because of the high Australian dollar.
"In the near-term there is a slowdown in activity and there is a reluctance to commit to big projects," he said. "Unfortunately, some New Zealand businesses are at the end of that very long kangaroo tail.
"That is not to say that these companies can't make their way through it, it's just that it is a tougher headwind."
Rob Mercer, head of private wealth research at Forsyth Barr, said slow growth was a factor for both markets. "From our perspective, the results of ongoing slow economic conditions remain a key feature of both Australia and, to a lesser extent, New Zealand.
"If you are looking for short-term earnings to confirm the current rally in share prices, they will be few and far between," he said. "In Australia, they have more fragility around the economic recovery in the short term, but of course they are a pretty big economy and it can turn pretty quickly."
- APNZ