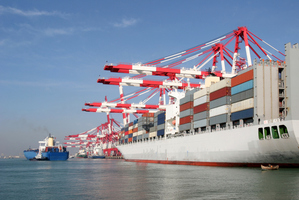 New Zealand meat is sitting on the wharf in China and out on boats waiting to get in, while Kiwi authorities iron out the paperwork.
Customs authorities in China won't let shipments of meat through, because they came with documentation from the Ministry of Primary Industries, not the old MAF.
Meat Industry Association chief executive Tim Ritchie says it's a serious concern.
"There was potentially a lot of product involved. China has moved over the last year or so to be New Zealand's number one sheep meet market."
Labour says New Zealand exporters will be anxiously waiting for the Government to sort out its paperwork.
Labour's agriculture spokesman Damien O'Connor says the Government needs to sort out the issue - and quickly.
"I'm sure the exporters, the Meat Industry Association, will become increasingly concerned about the long-term implications on those that are buying the meat at the other end."
Mr O'Connor says the Government was too quick to restructure, and didn't keep New Zealand's export partners in the loop.
Ministers Nikki Kaye and Nathan Guy say authorities are working around the clock to have the issue resolved.