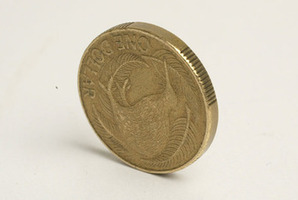 The New Zealand dollar was little changed as Wall Street's rally to record levels ran out of puff and traders pondered the effects on the economy of widespread drought in the North Island.
The kiwi traded at 82.45 US cents from 82.44 cents at 5pm in Wellington yesterday. The trade-weighted index was at 76 from 76.09.
The Dow Jones industrial Average slipped 0.03 per cent in late trading, having reached record levels this week, after Bundesbank President Jens Weidmann warned that the euro zone's financial and sovereign debt crisis represents the most significant risk for the German economy. Meantime, farmers are warning that the North Island's drought is the worst in 70 years and will dent agricultural output.
"Risky markets flipped to a mildly downbeat mode last night with no obvious news catalyst to inspire further gains," Westpac Banking senior markets strategist Imre Speizer said in a note. "Underperformer NZD suffered from drought fears and was stuck inside a 0.8232-0.8263 range."
Food prices for February are the only economic figures expected today as traders await the Reserve Bank's monetary policy statement tomorrow, where governor Graeme Wheeler is expected to keep the official cash rate at a record low 2.5 per cent.
The kiwi traded at 63.33 euro cents from 63.29 cents and was at 55.31 British pence from 55.34 pence.
It fell to 79.20 yen from 79.55 yen as Japan's currency gained from a 3 -year low against the greenback. The New Zealand dollar fell to 79.92 Australian cents from 80.18 cents.