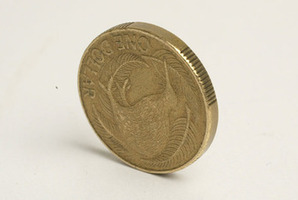 The New Zealand dollar fell after stronger than expected US nonfarm payrolls stoked speculation the Federal Reserve may start to withdraw its stimulus programmes, helping lift demand for the greenback.
The kiwi dollar fell to 81.94 US cents from 82.11 cents in late New York trading on Friday. It was as high as 82.86 cents before the US data on Friday. The trade-weighted index was at 75.73 from 75.80 in late New York trading and from 76.13 before the jobs report.
The Dollar Index, which measures the greenback against the basket of major currencies, rose to the highest since August last year on Friday after figures showed US employment jumped 236,000 last month, beating estimates, and the jobless rate fell to a four-year low 7.7 per cent. Employment is one of the key measures watched by the Fed.
"If these things are getting significantly better then there's a risk the Fed may withdraw its stimulus programmes," said Imre Speizer, senior markets strategist at Westpac Banking.
If that happens, "clearly they're not going to be buying bonds so US interest rates push higher, and that's good for the US dollar".
Withdrawing from quantitative easing would also mean the Fed stops printing money and debasing its currency.
Also weighing on the New Zealand and Australian dollars, Chinese economic releases over the weekend showed industrial output and retail sales growth are weaker than expected, while consumer prices rose a faster than expected 3.2 per cent in February.
The kiwi slipped to 78.62 yen from 78.74 yen and traded at 80.25 Australian cents from 80.27 cents. It traded at 63.08 euro cents from 63.05 cents and fell to 54.92 British pence from 54.98 pence.