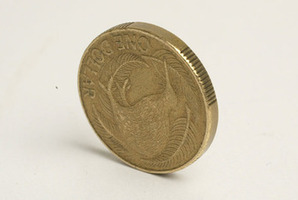 The New Zealand dollar declined against the euro after European Central bank chief Mario Draghi was less gloomy than some in the market had expected, forcing traders to cover their short positions.
The kiwi fell to 63.13 euro cents from 63.70 cents at 5pm in Wellington yesterday. The local currency traded at 82.79 US cents from 82.76 cents.
The ECB downgraded its economic forecast for the euro zone to a contraction of 0.5 per cent in 2013 though President Draghi reiterated his expectations of a recovery later in the year. He downplayed the risks Italy's political impasse poses to the region's debt crisis.
"The market was short euro going into it (the ECB meeting)," said Tim Kelleher, head of institutional FX sales at ASB Institutional. "The ECB is keeping their powder dry in case something else comes along."
The kiwi may trade in a range of 82.60 US cents and 83 cents today.
Traders are looking ahead to Friday in the US, when US non-farm payrolls are released.
Expectations are that 160,000 jobs were added in February and a strong number would follow private sector employment data this week that suggested the US labour market is improving.
That could lead to Federal Reserve chairman Ben Bernanke exiting the bank's quantitative easing measures soon rather than later as his mandate in based on employment and underpin the greenback.
A strong number "would see the market start to factor in Bernanke's exit strategy," Kelleher said.
The trade-weighted index declined to 76.05 from 76.13. The kiwi fell to 80.55 Australian cents from 80.76 cents and gained to 78.60 yen from 77.65 yen on speculation the next bank of Japan governor will do more to weaken Japan's currency. It was little changed at 55.10 British pence.