Market helped by record high for Dow Jones in US and News Corp's Sky Network Television selldown.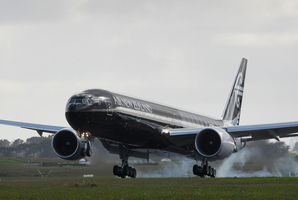 New Zealand shares rose yesterday, led by Air New Zealand and Kathmandu, after the Dow Jones Industrial Average hit a record high and Australia showed better economic growth and as the local market digests News Corp's Sky Network Television stake.
The NZX 50 Index rose 28.81 points, or 0.7 per cent, to 4297.97. Thirty stocks rose, 16 fell and four were unchanged. Turnover was $215 million, with about 30 per cent of that made up of Sky TV shares.
Sky TV rose 1 per cent to $5.07 even after shedding its 12c interim dividend.
News Corp sold its 44 per cent stake to institutions at $4.80 a share in an underwritten sale and New Zealand stocks were initially sold on news of the sale as investors freed up funds to buy the pay-TV company.
"The market is bouncing back after a bit of a selloff to fund the Sky TV placement," said Grant Williamson, a director at Hamilton Hindin Greene.
"It has been a very successful placement."
Shares gained after the Dow Jones rose to a record close of 14,253.77 in New York. They also got a lift from a rally in Australian stocks to a four-year high as figures showed Australia's economy grew 0.6 per cent in the fourth quarter, beating estimates.
That had a flow-over to our market yesterday, Williamson said.
Air New Zealand gained 3.6 per cent to $1.45. Outdoor equipment retailer Kathmandu climbed 3.4 per cent to $2.47 and clothing chain Hallenstein Glasson Holdings rose 2.6 per cent to $5.60.
Among stocks going ex-dividend yesterday, Contact Energy fell 1.9 per cent to $5.25 after shedding its 11c interim payment.
NZX rose 1.6 per cent to $1.29, ex its 1.25c final dividend and having reported that the value of cash trading jumped 58 per cent in February from a year earlier.
Fletcher Building rose 0.1 per cent to $9.18 after government figures showed building work grew for a fifth quarter in the final three months of 2012.
Port of Tauranga fell 0.5 per cent to $13.61 after shedding its interim dividend of 20c.
PGG Wrightson, the nation's biggest rural services company, rose 2.6 per cent to 40c after the price of milk powder surged in the latest GlobalDairyTrade auction.
Cloud-based accounting firm Xero rose 1.8 per cent to $8.14 and Infratil rose 1.7 per cent to $2.40.