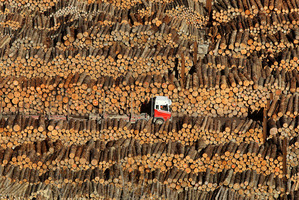 A stronger New Zealand dollar swamped further gains in world prices for export commodities last month.
ANZ's commodity price index rose 0.3 per cent in world price terms to a 10-month high, its sixth consecutive monthly gain.
But with the exchange rate rising 0.7 per cent against the US dollar, and 1.2 per cent on a trade-weighted basis, the ANZ index fell 0.5 per cent in New Zealand dollar terms, to be 10 per cent down on January last year.
Dairy products, which make up 43 per cent of the index, rose 0.4 per cent last month on world markets, led by skim milk powder and butter.
But beef prices fell one per cent and lamb prices edged lower by 0.25 per cent.
Log prices rose two per cent, but aluminium fell two per cent from December's eight-month high.
The differing fortunes of different sectors is mirrored in the responses to Federated Farmers' twice-yearly confidence surveys.
Last July, when dairy prices were at their low point, a net 45 per cent of dairy farmers expected their profitability to worsen.
But since then prices in Fonterra's fortnightly auctions have improved by 27 per cent and the co-operative has revised up its payout forecasts.
In the latest survey a net 8 per cent of dairy farmers still expect profitability to worsen but that is an improvement of 37 points on the previous survey. By contrast a net 53 per cent of sheep and beef farmers expect profitability to decline, down from a net 37 per cent last July.
"Although beef and wool prices have held up, lamb prices are down 35 per cent on this time last year," Federated Farmers said.
Spending intentions reflect the shift in outlook. A net 10 per cent of sheep and beef farmers expect to cut spending, where six months earlier the outlook was flat.
But a net 12 per cent of dairy farmers expect to lift spending, where a net one per cent expected to cut back in the July 2012 survey.
The survey found commodity prices and the exchange rate were farmers' two largest concerns, in both cases to a greater extent than last July.
"Although there are some who want intervention in the exchange rate," Federated Farmers said, "more accept that there is little the Government can do to directly control it, especially when it is being influenced mainly by global events."