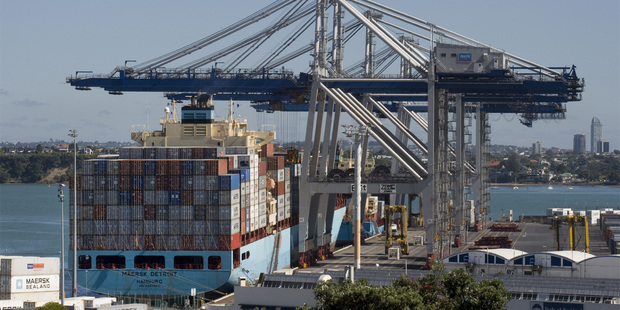 New Zealand recorded its biggest December month trade surplus since 1991 as imports, particularly of aircraft, fell more sharply than exports.
The trade surplus was $486 million in December, equal to 12 per cent of exports, roughly 10 times the average surplus of $49 million for December in the previous five years, Statistics New Zealand said.
The headline result masks an underlying fall in exports for the month of December, led by receipts from dairy products,
Traders expected a $105 million deficit but the NZ dollar sat unchanged at 83.30 US cents after the data was released in a market awaiting an official cash rate announcement on Thursday.
The surplus is the largest for a December month as a percentage of exports since December 1991.
The strong December surplus helped reduce the trade deficit for the December quarter to $87 million.
Exports fell 5.1 per cent in the December month compared to December 2011, reflecting a 5.3 per cent fall in the value of exports of milk powder, butter and cheese, a 17 per cent fall in exports of logs and wood and wood products and a 97 per cent fall in exports of prefabricated buildings.
The picture was lumpier on the import side where an 89 per cent fall in the value of imports of large aircraft and helicopters from France helped reduce imports in December by 10 per cent.
The value of imports of petroleum and products fell by 31 per cent but the value of vehicle imports rose by $49 million.
New Zealand had a trade deficit of $1.2 billion in the December year, equal to 2.6 per cent of exports.
"This compares with an average deficit of 4.9 per cent over the previous five December years, although there were surpluses in the December 2010 and 2011 years," Statistics New Zealand said.
In the year ended December exports fell $1.7 billion, or 3.5 per cent, from a year earlier and imports rose $399 million, 0.7 per cent.