It's business as usual after shift of 35 per cent stake from NZ Post to Super Fund, says IT firm.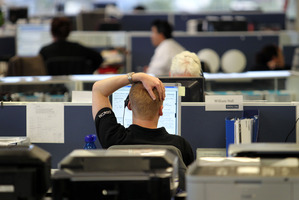 Datacom Group says it will be business as usual as New Zealand Post sells its 35 per cent shareholding in the IT services firm to the Super Fund, replacing one "long-term" shareholder with another.
NZ Post, chaired by Michael Cullen, announced yesterday it would sell its stake in Datacom for $142 million to the fund the former Finance Minister set up in 2001.
Sale proceeds will be used to restructure debt during a time when NZ Post's traditional areas of business, such as delivering mail, are in decline.
The rest could be invested in several projects, including those linked with the state-owned enterprise's digital arm such as the YouPost service. YouPost, still being tested, is an online operation that allows people to sort, organise and pay bills online.
The sale funds may also be invested in projects associated with NZ Post's subsidiary, Kiwibank.
"As a group, we're looking at where we've got capital tied up and if it's the best use of that capital," said NZ Post communication manager John Tulloch, who also mentioned that the organisation had sold two Auckland properties for about $33 million.
"As a business we need to change and keep on changing to keep [in] pace with the nature of the market ... [NZ Post's] traditional, core business of the last 170 [years] is obviously declining and we need to adapt to modern requirements," Tulloch said.
Revenue from its postal business fell by $17 million last year, with 54 million fewer letters being sent.
NZ Post will remain a big customer of Datacom, which said it would be "business as usual" after yesterday's announcement.
Datacom chief executive Jonathan Ladd said the sale, still subject to some approvals, would see the company lose one long-term shareholder and gain another one.
"[The Super Fund] is pretty like-minded, really. They're in for the long-term, they're in for the growth."
The Super Fund will be Datacom's second-largest shareholder, behind Evander Management, which owns just over half of the group.
Evander is the holding company of Datacom chairman John Holdsworth's family. The remainder of shares in the company are held by staff or directors.
Datacom Group, which manages IT services for firms, has more than 4000 staff operating across 22 locations in Australia, New Zealand, the Philippines and Malaysia.
The 2012 Technology Investment Network report said it recorded revenue this year of $788 million.
-Additional reporting: BusinessDesk