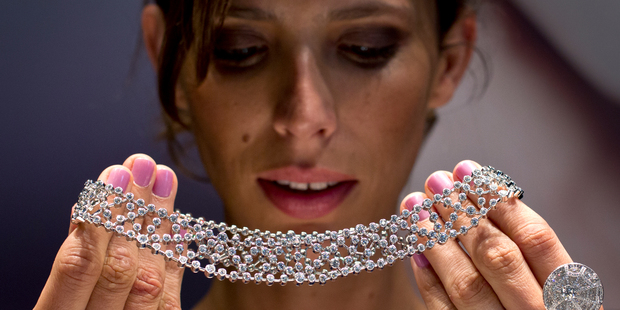 In the world of bling, the top end of the market has proved surprisingly resilient to more than four years of recession and economic stagnation, according to local retailers.
Auckland's Hartfield Jewellers is holding a special exhibition at its Parnell store this week and $2 million worth of Chaumet jewellery - including a $303,000 necklace encrusted with 336 diamonds - has been flown in from France for the occasion. Manager Rebecca Foley said about 100 customers were expected to view the exhibition this week and the store expected to sell many of the products on show.
"People can buy them but it's also just to see the beauty of the special designs that you'd normally need to travel to Europe to see."
Hartfield had seen a 20 per cent increase in its sales of the French jewellery and watchmaker's products over the past year, Foley said.
Glenn Peachey, co-owner of the Partridge Jewellers stores in Queen St and Newmarket, said his business had seen four consecutive years of sales growth.
"People with money tend to still have money, I think," Peachey said. "[The economic downturn] has maybe affected that entry-level price bracket much more so than the top end of the market."
Hartfield director Brian Hough said the global financial crisis in 2008 had no impact on the store and the business had continued to grow revenue each year since its onset.
Hough said the store had built its market around being the sole New Zealand retailer of Chaumet, a 232-year-old brand that was once the French Emperor Napoleon Bonaparte's official jeweller.
"The market's so small that you can't afford to be touching brands that everyone else has got."
Other pieces in Hartfield's exhibition include a $115,000 Chaumet diamond tiara and diamond ring with the same price tag.